Arkansas Rice Update 7-9-21

Arkansas Rice Update 2021-17
July 9, 2021
Jarrod Hardke, Yeshi Wamishe, and Scott Stiles
"Take a load of Fanny, take a load for free, take a load off Fanny, and you put the load right on me."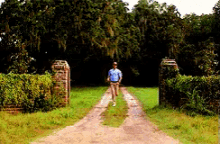 Scattered, Smothered, & Covered
Jarrod Hardke
Scattered rains occurred across the northeast portion of the state this week. Once again, a welcome sight for the region with some receiving several inches of rainfall. The central and southern areas have been less fortunate, with continued extreme dry conditions. Water management continues to be a struggle for many in that part of the state as we approach heading on more and more acres.
While temperatures and humidity are on the miserable side for people at the moment, the rice is loving the weather. The first fields in the state have begun to head over the past week or so. The extended temperature outlook remains moderate (for July) which would be very welcome to keep crop quality high. However, the end of July into early August is traditionally our hottest period of the year, and much remains to be seen about what conditions will be then.
As usual at this point in the season, the oddball field occurrences start to happen. Questions about possibly fertility issues / deficiencies remain common. You always hear us say early in the season "don't guess, soil test" but this time of year it's more "don't guess, tissue test". In cases of pronounced deficiencies, we can often point you in the right direction with a quick field visit or even sometimes from a few pictures. But some of the oddities occurring right now are not extremely pronounced and it hasn't been uncommon for tissue testing to point us in the right direction that maybe we weren't originally leaning. Contact us or your county agent for help if you have fields that look questionable, don't be too quick to pull the trigger on an application that may be an unnecessary expense.
Table 1. Percent of acres reaching 50% heading by week (based on fields in DD50).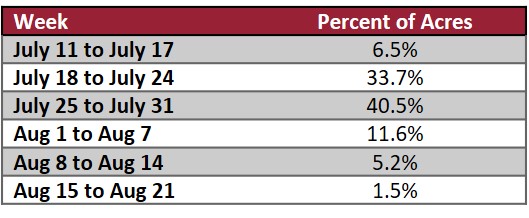 Fig. 1. NOAA 7-day Precipitation Forecast.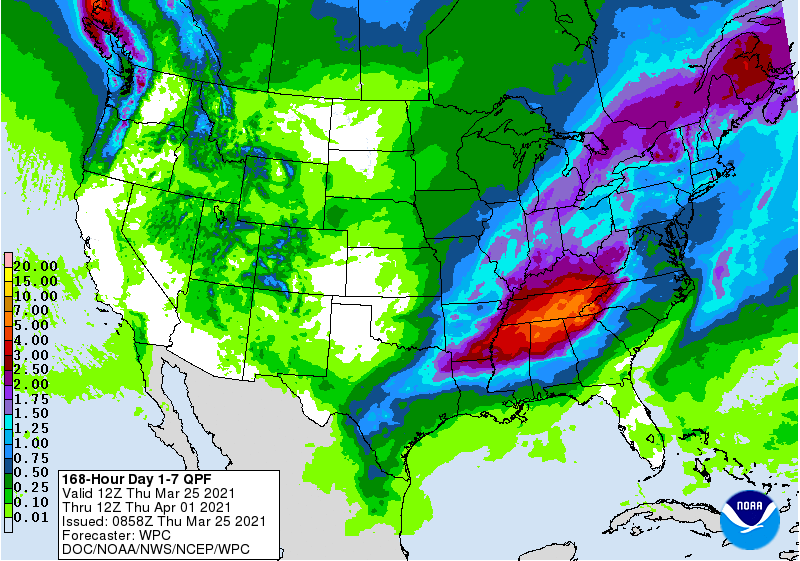 Rice Leadership Development Program is Accepting Applications
The Rice Leadership Development Program gives future leaders a comprehensive understanding of the rice industry, with an emphasis on personal development and communication skills. The class attends four one-week sessions over a two-year period that encompasses studies of all aspects of the rice industry through firsthand observations. They also attend seminars and workshops designed to strengthen leadership skills. The Rice Foundation will be accepting applications for the Rice Leadership Development Program, July 1 – September 10, 2021.
To be eligible to participate in the Rice Leadership Development Program, applicants must derive their primary livelihood as rice producers or from a rice industry-related profession or firm, including rice mills, rice product marketers, sales officials, dryers, extension services, research facilities, etc. Participants from the industry-related category must serve the rice industry in their primary job responsibility. Applicants must be between the ages of 25 to 46 at time of application.
To apply for the program and for additional information please visit http://www.usarice.com/foundation/leadership-program. For additional information please contact Steve Linscombe (Program Director) slinscombe@usarice.com.
All applicants will receive notification on whether they are selected as a finalist. All applicants chosen as finalists must be available for personal interviews. Interviews will be conducted by the Rice Leadership Selection Committee in conjunction with the USA Rice Outlook Conference in New Orleans, Louisiana, in December 2021. The 2022-2024 Rice Leadership Development Class will be announced at the Annual Awards Luncheon at the USA Rice Outlook Conference. A special committee of rice industry and agribusiness leaders evaluate applications and letters of recommendation, as well as conduct personal interviews to determine the 4-5 rice producers and 2-3 individuals from rice-industry related professions who will make up the Rice Leadership Development Class.
The program has been in existence for over 30 years and most of the current leaders of the rice industry are alumni of the program. The Rice Leadership Development Program is funded by grants from John Deere Company, RiceTec and American Commodity Company to The Rice Foundation. The USA Rice Federation develops and manages the program on behalf of The Rice Foundation.
Managing Kernel and False Smut in Rice
Yeshi Wamishe
In flooded or furrow irrigated rice, most cultivars including the hybrid are susceptible or moderately susceptible to kernel or false smut or both. Generally, under favorable weather conditions, kernel and false smut are severe in late-planted susceptible rice grown in a field with a history and/or having dense canopy and applied with excessive nitrogen fertilizers.
Appropriate cultural practices are highly recommended to reduce the severity levels of both diseases. Scouting for kernel or false smut is not helpful to plan for fungicide application. Once the diseases appear, it is already too late for fungicide application.
The recommended fungicides are protective and need to be applied between early-boot to mid-boot (Figure 1). Mid-boot is the optimum timing. The benefit from fungicide use continues to decrease if applied after mid-boot, and applying at boot split (Figure 2) is too late.
Triazole fungicides containing Propiconazole (Tilt equivalents) or Difenoconazole are the commercially available fungicides to suppress these diseases. When the fungicides are applied at the correct timing and rate using an adequate water volume, 90% to 95% suppression can be attained in Kernel smut. While the false smut fungus is less sensitive to the chemistries, research has shown 50% to 70% suppression using triazole fungicides. A minimum of 6 fl oz per acre rate of tilt or tilt equivalent is recommended. To suppress kernel and false smut, triazole fungicides such as Tilt, Bumper or Propimax can be used. If pre-mixes are desired Quilt, Quilt Xcel or Amistar Top can be used. When Stratego or Flint Extra is desired, adjust the tilt equivalent to at least 6 fl oz per acre rate. Check out the blog on rice fungicides and mix rates. Read fungicide labels carefully before mixing or application. Labels are the rule.
Sometimes the recommended fungicide timing for smut suppression may align with the sheath blight at the threshold level. In such situations, combination fungicides may be used to address the three diseases together and save additional application costs. For adequate canopy coverage, a minimum of 5 or up to 10 gallons of water per acre is encouraged.
Fig.1. Early to mid-boot is the optimum timing for kernel and false smut fungicide application.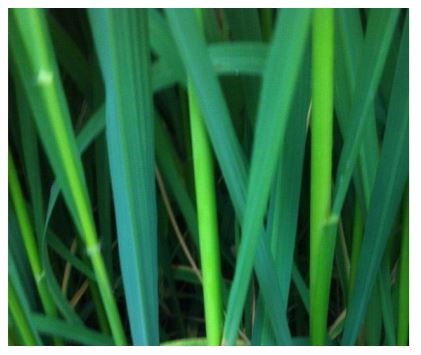 Fig. 2. Applying protective fungicides after mid-boot to suppress kernel or false smut is too late.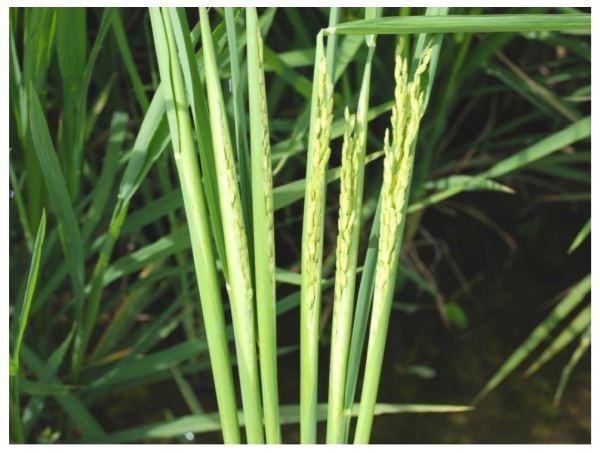 Rice Market Update
Scott Stiles
USDA's WASDE and Crop Production reports will be released Monday, July 12th at 11:00 a.m. central. As we discussed last week, the results of the June Acreage survey will be used in the July production estimates. The June Acreage report did include a projection for long-grain harvested acres of 2.041 million. Assuming a national average long-grain yield of 7,479 pounds (166.2 bu./ac.) implies the July production estimate would be 152.6 million cwt.; slightly above USDA's June estimate of 152.3 million.
In grain futures it's been a week for the bears as traders aggressively liquidated long positions on improving Midwest weather forecasts. Specific to rice, the June Acreage report was a disappointment. Since June 30, the September rice contract has lost about 5% or 64 cents per cwt. The next key layer of support for the September contract is at $12.50/cwt. Export sales of rice were lite for the week ending July 1. Milled rice business with Haiti over the coming weeks will be of particular interest. The market's focus now turns to Monday's USDA reports.
CBOT Rough Rice Sep '21 (ZRU21)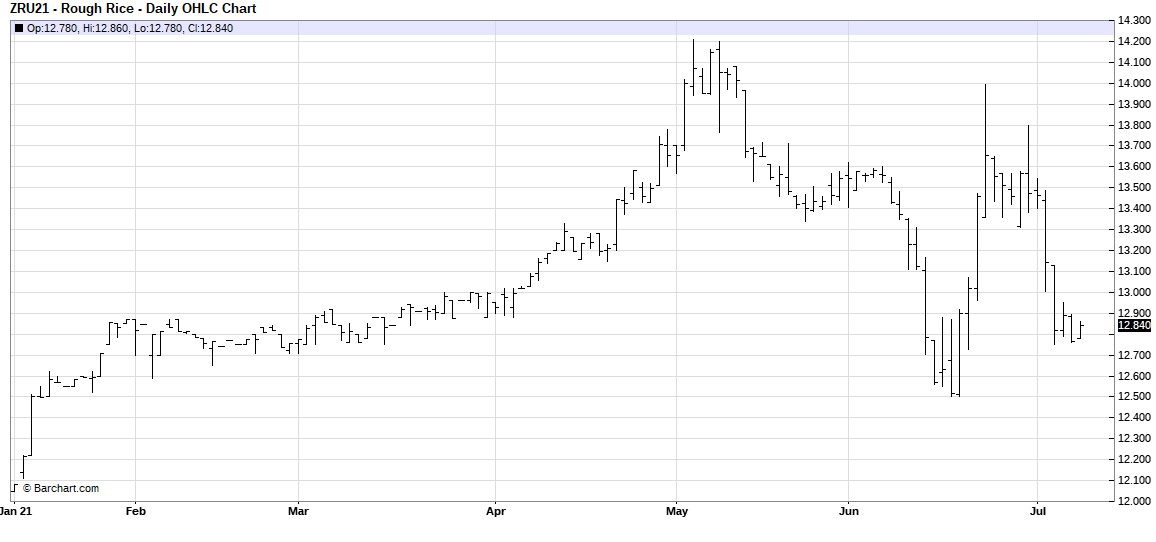 Row Crops Radio Podcasts
Check out these podcast episodes by following the link or by listening to them on Arkansas Row Crops Radio wherever you listen to podcasts.
Insect Update from Lorenz, Bateman, & Thrash (7/8/21)
Weeds AR Wild, Ep. 19: Herbicide Drift, Checking Labels, and Staying Clean from Weeds (7/7/21)
DD50 Rice Management Program is Live
The DD50 Rice Management Program is live and ready for fields to be enrolled for the 2021 season. All log-in and producer information has been retained from the 2020 season, so if you used the program last year you can log in just as you did last year. Log in and enroll fields here: https://dd50.uada.edu.
Use the Arkansas Rice Advisor Internet App!
The Arkansas Rice Advisor site https://riceadvisor.uada.edu functions like an app on your mobile device. There you can readily access the DD50 program, rice seeding rate calculator, drill calibration, fertilizer and N rate calculators, publications, and more.
Additional Information
Arkansas Rice Updates are published periodically to provide timely information and recommendations for rice production in Arkansas. If you would like to be added to this email list, please send your request to rice@uada.edu.
This information will also be posted to the Arkansas Row Crops blog (http://www.arkansas-crops.com/) where additional information from Extension specialists can be found.
More information on rice production, including access to all publications and reports, can be found at http://www.uaex.uada.edu/rice.
Acknowledgements
We sincerely appreciate the support for this publication provided by the rice farmers of Arkansas and administered by the Arkansas Rice Research and Promotion Board.
The authors greatly appreciate the feedback and contributions of all growers, county agents, consultants, and rice industry stakeholders.