Arkansas Rice Update 9-3-21

Arkansas Rice Update 2021-24
September 3, 2021
Jarrod Hardke and Scott Stiles
"It was the third of September, that day I'll always remember."

Hurricane, Now Hurry Up
Jarrod Hardke
It turns out that Hurricane Ida had little impact on the state of Arkansas after originally setting up to bring high winds and rain to much of the rice region. Unfortunately portions of Louisiana weren't spared from devastating impacts due to the storm. This includes shipping and Mississippi River traffic (more on that in the Market Update).
While harvest progress made a small jump in advance of Ida's expected arrival, conditions weren't favorable for most acres. Now with the shift in weather pattern to warm days, cool nights, and lower humidity and dew points, we can get some real drying to happen. It's finally time for rice to ripen and harvest progress to really open up.
There are rain chances this weekend but they're variable depending on where you are in the state. Generally no more than an inch is forecast anywhere in the state. The next 10 days look like mostly open road for the Harvest 500.
Low Milling Yields Offsetting High Grain Yields
Jarrod Hardke
Why are milling yields so low on rice harvested so far? Environmental conditions. Right, nobody wants to hear that, we all want a specific answer. The reality is that we're seeing these lower milling yields across a wide range in the state across many cultivars (varieties and hybrids). Blame it on periods of high nighttime temperatures experienced throughout late July. Blame it on heavy dew periods creating extreme wetting and drying cycles. Blame it on combinations of these and other environmental factors. Lower head rice and total milling yields, increased chalk, and increased damaged kernels are notable so far.
We can only hope that things will improve in later rice, but we won't know until we get there. I guess there is some comfort in knowing it's not just your rice, but the economic hit for these milling yield reductions is real, so hopefully it is short-lived on earlier rice and things will improve in later planted rice as they often do. Call if you have any questions.
Preliminary Planting Date Yield Data
Jarrod Hardke
Table 1 contains preliminary yield data from 2021 and 2020 planting date studies at the RREC at Stuttgart. Reminder: the 2021 data is preliminary because we haven't fully analyzed it yet – so it may look different in its final form presented later this year. Since we start getting questions about performance data already, we're showing this now for an 'early look'.
Table 1. Preliminary planting date study date for 2021 versus 2020 data.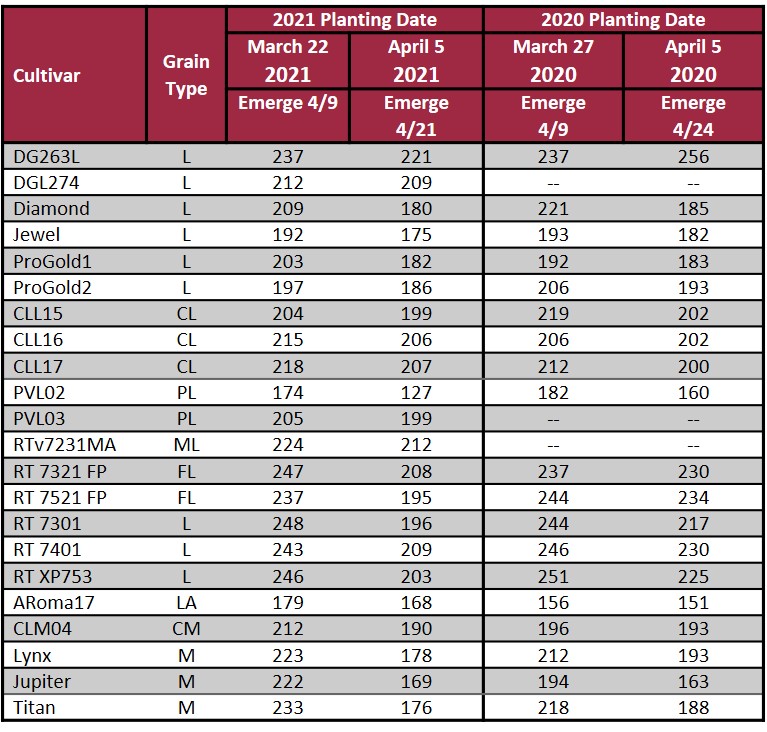 Grain Type: L = long-grain; M = medium-grain; CL = Clearfield long-grain; CM = Clearfield medium-grain; FL = FullPage long-grain; ML = MaxAce long-grain; PL = Provisia long-grain; LA = long-grain aromatic.
Harvest Aids (Repeat)
Jarrod Hardke
Use of sodium chlorate in rice continues to be a valuable tool for as a harvest aid. The key here is that it's a tool and not necessarily a fit for all acres and situations. Some of our research in recent years has improved our knowledge our knowledge on how best to use this tool to maximize its benefit for rice harvest.
Complete rice harvest in 5 days or less after application of sodium chlorate. Any longer and heavy dew and/or rain can reduce milling yield. Excessive drying of panicle branches can increase shattering potential and excessive plant desiccation can increase lodging. The greatest losses in small-plot research trials have been observed from waiting over 5 days to harvest. You can get lucky if conditions happen to be favorable, but the losses can be substantial if conditions are poor.
Do not salt varieties until grain moisture is below 25% (e.g. Diamond, CLL16, etc.)
Do not salt hybrids until grain moisture is below 23% (e.g. XP753, RT7521FP, etc.)
Once grain moisture falls below 18%, do not salt the rice. This is an absolute cut-off for medium-grains, especially Titan. Long grains may be able to cheat below 18% but harvest needs to start immediately. In research and some field observations, applications below 18% have been accomplished with little negative impact, but conditions were favorable and harvest occurred immediately in those instances.
The lower the grain moisture at time of application, the more you should consider using a lower rate of sodium chlorate. A 1-gallon rate of 5 lb material is an effective rate especially at higher moisture rice, but as rice approaches lower ranges, a 0.5 gallon rate may be justified to decrease the risk of over-drying the rice.
Fig. 2. Research plots receiving sodium chlorate (right) versus untreated check.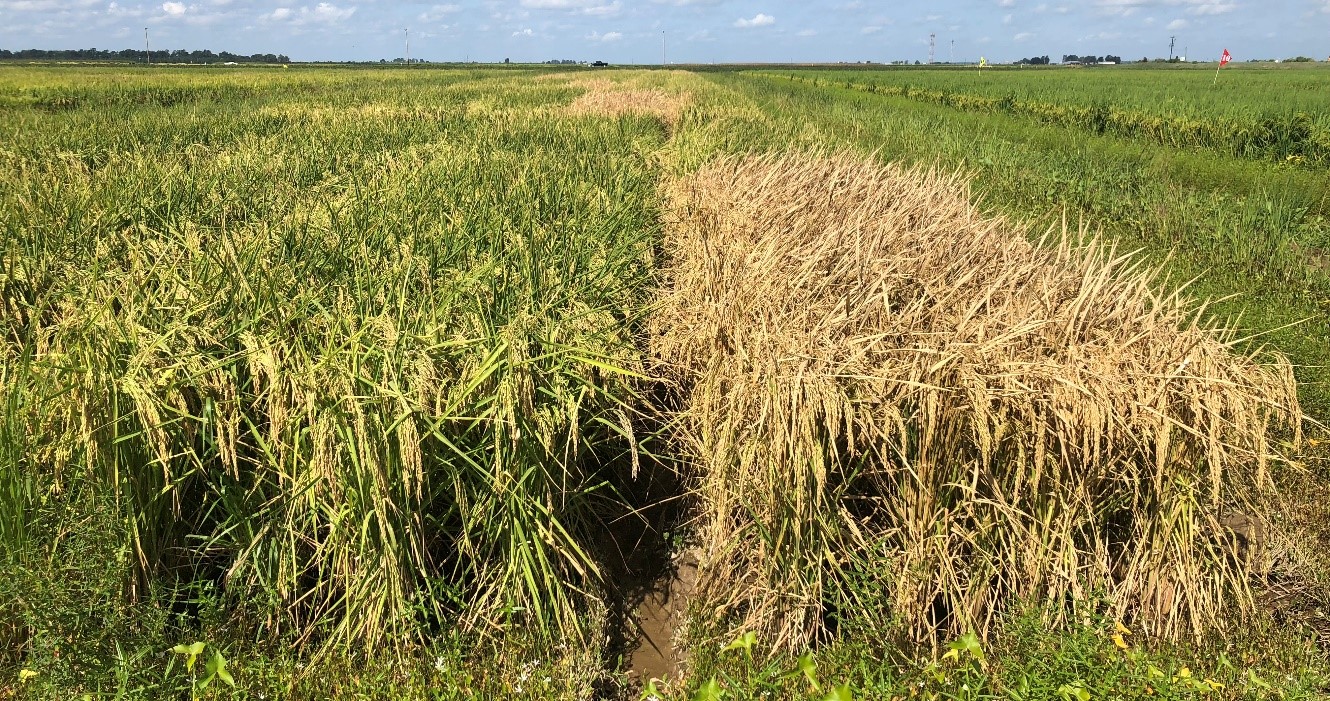 Rice Market Update
Scott Stiles
Hurricane Ida did not provide the anticipated boost to the rice market this week. Rice futures followed the path of corn and soybeans, trading lower Monday, Tuesday, and Wednesday. November rice did settle 6 cents higher Thursday, closing at $13.30. Cash rice bids at mills around eastern Arkansas were 20 cents under November futures at $5.78/bu. Thursday. Cash bids at driers ranged from $5.65 to $5.72 per bushel. The November contract found support this week at $13.20 and could trade in a narrow range next week ahead of the September 10th USDA reports.
The most bearish impact from Ida has been the interruption of exports. This has also negatively impacted corn, soybean, and sorghum basis this week at river terminals. At many locations along the Mississippi river the cash basis has weakened 60 to 70 cents per bushel since last Friday (Aug. 27). For some facilities along the Gulf coast, it could be several weeks before loading of grain resumes. The adjustments in basis this week seem indicate logistical backlogs for the next 60 to 90 days.
Rough Rice Nov '21 (ZRX21)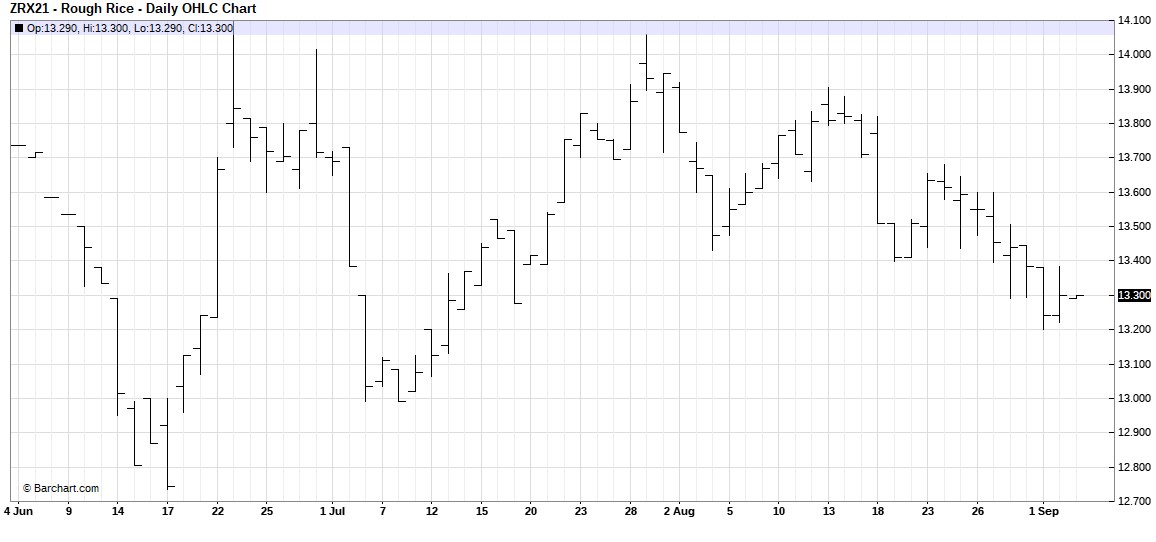 There is a tremendous effort underway to restore power at the Gulf and clear waterways of grounded barges and debris. The Mississippi River was closed from Baton Rouge to the Gulf of Mexico for 5 days following Ida's landfall. On Thursday vessel traffic above Mississippi River mile marker 167.5 near St. James, LA, and south of mile marker 105 near Bridge City, LA, reopened but is restricted to daylight hours only. The river remains closed between mile markers 105 and 167.5.
All interstates are now open in Louisiana, with the exception of two sections of I-55—a major north/south artery to access LaPlace and New Orleans. State officials have asked to keep these arteries clear for the use of emergency personnel. Railroads report widespread power outages, fallen trees, and major flooding have closed lanes.
The next USDA supply/demand report and NASS Crop Production will be released Friday, September 10th. It will include updated acreage estimates for rice that incorporate certified acreage data from the Farm Service Agency (FSA) along with survey data from farmers, satellite data, and other sources. Depending on how much additional acreage has been certified over the past month, the updated September acreage could be supportive to the rice market.
The table below includes long-grain acres that were certified as of August 1st. For comparison, the planted acres from NASS' June Acreage survey are also included. Note there are some stark differences in the August certified acres and the June Acreage survey results that have been used to estimate rice production in July and August.
Long-Grain Certified Acres, as of August 2021.

Crop Progress:
In Monday's Crop Progress USDA estimated that 19% of the U.S. rice crop had been harvested; 1 percentage point ahead of last year but 3 points behind the 5-year average. Arkansas' crop was 6% harvested as of August 29; up from 2% the previous week. As Ida arrived, Louisiana was at 74% complete as of last Sunday. Texas' harvest was at 68% complete. Mississippi and Missouri were at 6% and 5% harvested, respectively. With Ida's eastward shift, harvest advanced rapidly this week on warm/dry conditions, particularly in Arkansas and Missouri.

Fun Fact: The Mississippi Gulf Coast accounts for 60% of U.S. grain and soybean exports.
DD50 Rice Management Program is Live
The DD50 Rice Management Program is live and ready for fields to be enrolled for the 2021 season. All log-in and producer information has been retained from the 2020 season, so if you used the program last year you can log in just as you did last year. Log in and enroll fields here: https://dd50.uada.edu.
Use the Arkansas Rice Advisor Internet App!
The Arkansas Rice Advisor site https://riceadvisor.uada.edu functions like an app on your mobile device. There you can readily access the DD50 program, rice seeding rate calculator, drill calibration, fertilizer and N rate calculators, publications, and more.
Additional Information
Arkansas Rice Updates are published periodically to provide timely information and recommendations for rice production in Arkansas. If you would like to be added to this email list, please send your request to rice@uada.edu.
This information will also be posted to the Arkansas Row Crops blog (http://www.arkansas-crops.com/) where additional information from Extension specialists can be found.
More information on rice production, including access to all publications and reports, can be found at http://www.uaex.uada.edu/rice.
Acknowledgements
We sincerely appreciate the support for this publication provided by the rice farmers of Arkansas and administered by the Arkansas Rice Research and Promotion Board.
The authors greatly appreciate the feedback and contributions of all growers, county agents, consultants, and rice industry stakeholders.