Arkansas Rice Update 9-17-21

Arkansas Rice Update 2021-26
September 17, 2021
Jarrod Hardke and Scott Stiles
"The waiting is the hardest part."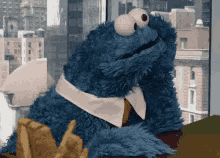 Harvest Progress
Jarrod Hardke
This rice will not dry! Mid to late April rice seemingly ready for harvest is having a hard time letting go lately. Moisture continues to hold in the upper teens to near 20%, despite seemingly plenty of time and dry weather to mature it. You guessed it – it's the weather's fault as usual.
Now that something is changing with overcast, rainy conditions through the weekend, we can finally expect the crop to get ready. It's very likely that these grain moistures will fall very rapidly after this system passes and we'll go from 'this moisture is too high' to 'this moisture is too low'. The weather is a Yo-Yo and Mother Nature is making it do the rocking chair right now.
Yield reports continue to be excellent from around the state. Generally milling yields have improved some as well and hopefully continue to improve. Prolonged wet weather with rice not drying down is not a great recipe for that, but getting out of excessive heat and drying events should minimize that impact.
There was some surprise at the low increase in harvest progress from Monday's report. We'll likely see a decent catch-up in the coming report where we reach or exceed 50% harvest progress. Scattered rainfall in certain areas this weekend, combined with the weekend rain conditions will make it interesting.
Those with any irrigation left to do probably want it go ahead and rain enough to finish that off for them rather than the weather just be too poor for harvest and but not enough rain to stop irrigating. But with a cool down expected next week, growth is going to start slowing down, moving more acres toward harvest.
Table 1. Harvest progress by week, 2016-2021.

Table 2. AR rice acres, USDA-FSA, Sept. 2021.

Fig. 1. NOAA 7-day precipitation forecast.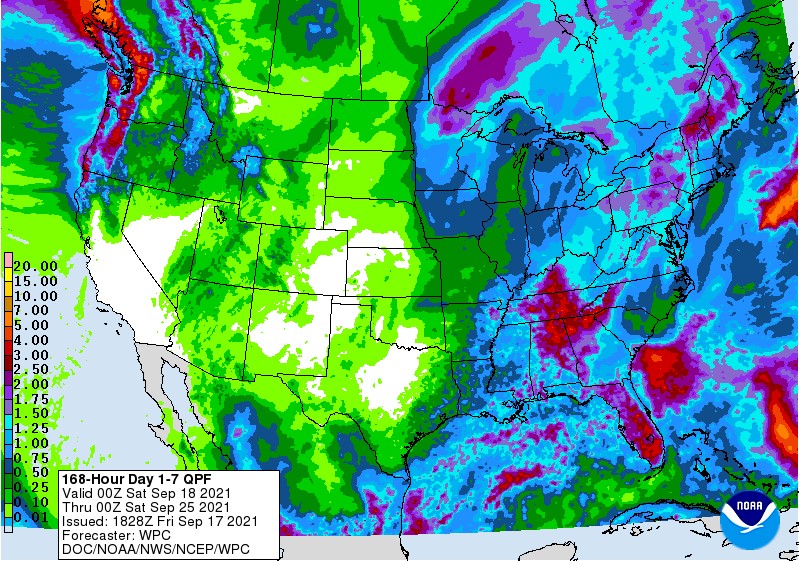 Rice Market Update
Scott Stiles
Solid gains this week in CBOT rice futures following the September WASDE. The November contract closed higher in four straight sessions, gaining 48 cents before hitting chart resistance at $13.80 Thursday. Cash rice bids at driers were in the $5.84 to $5.90 range after Thursday's close. Bids at mills were $5.97/bu.
Rough Rice Nov '21 (ZRX21)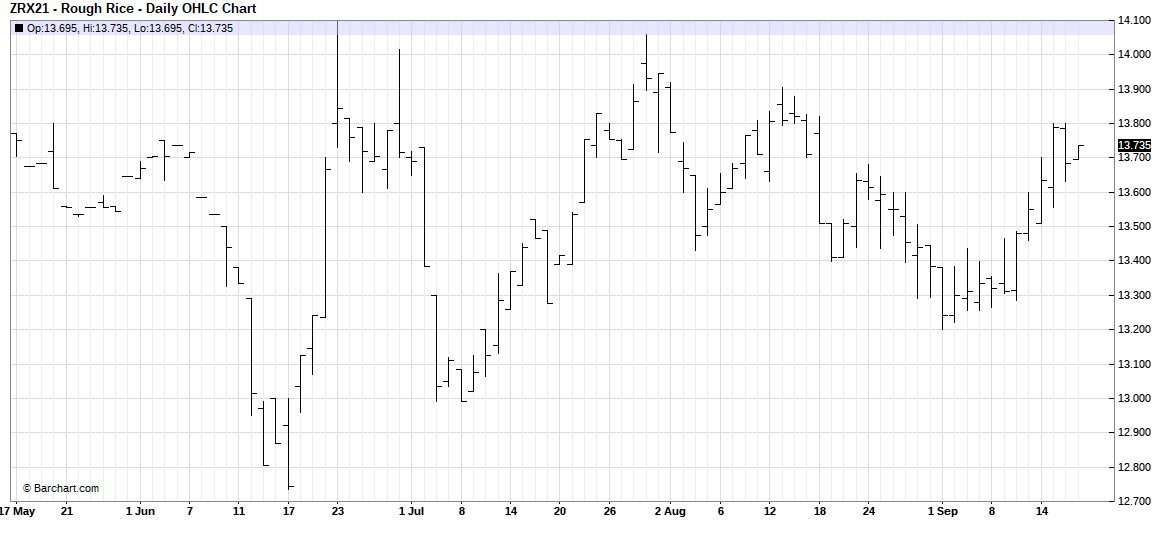 Export Sales:
Sales of long-grain were unimpressive last week, however there was a milled sale to Haiti of 15,200 mt. Rough rice shipments hit a marketing year high of 72,283 mt. Mexico (30,783 mt) and Venezuela (27,500 mt) were the top destinations. Venezuela has taken delivery of all its purchases year to date. Total long-grain export sales are running 54% ahead of last year for the week ending September 9th.
Crop Progress:
USDA's Crop Progress had U.S. rice harvest at 40% complete as of September 12th vs. the 5-year average of 43%. Louisiana and Texas were both at 89% harvested. Mississippi advanced 32 points from the previous week to 50% harvested. Arkansas advanced to 33% harvested.

Urea Market
The aftereffects of Hurricane Ida continue to be felt in the urea market. While CF Industries announced that it had begun restarting its ammonia plants at the Donaldsonville Complex in Louisiana, urea production has not restarted.
When the CF facility went down, this removed approximately 5,000 tons of granular urea from the market each day. In turn, this shutdown caused a sharp increase in Gulf urea values.
Prior to Hurricane Ida hitting in late August, urea barges were trading in the low $430s/ton fob New Orleans. In just under two weeks, values advanced to a high of $552/ton--the highest since May 2012.
For a brief time, this week barge values fell from last week's highs to trade at $515/ton. However, bids recovered as the week progressed and September barges were trading at $550 on Thursday.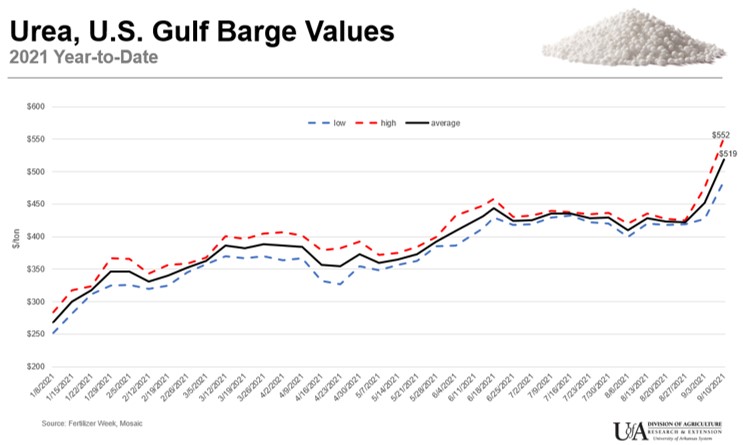 Impact on Production Costs:
Increases in fuel and fertilizer over the past year will have a dramatic impact on 2022 budgets. We are already seeing that in our 2022 wheat budgets. The sharp rise in all fertilizers contributed to the majority of the $85/acre increase in variable costs from last year's budget. Fuel costs have increased as well with NYMEX diesel futures now trading at $2.20/gallon compared to $1.16 a year ago. We are in the process of working on 2022 rice, corn, soybean and cotton budgets and should have those available in early October.
DD50 Rice Management Program is Live
The DD50 Rice Management Program is live and ready for fields to be enrolled for the 2021 season. All log-in and producer information has been retained from the 2020 season, so if you used the program last year you can log in just as you did last year. Log in and enroll fields here: https://dd50.uada.edu.
Use the Arkansas Rice Advisor Internet App!
The Arkansas Rice Advisor site https://riceadvisor.uada.edu functions like an app on your mobile device. There you can readily access the DD50 program, rice seeding rate calculator, drill calibration, fertilizer and N rate calculators, publications, and more.
Additional Information
Arkansas Rice Updates are published periodically to provide timely information and recommendations for rice production in Arkansas. If you would like to be added to this email list, please send your request to rice@uada.edu.
This information will also be posted to the Arkansas Row Crops blog (http://www.arkansas-crops.com/) where additional information from Extension specialists can be found.
More information on rice production, including access to all publications and reports, can be found at http://www.uaex.uada.edu/rice.
Acknowledgements
We sincerely appreciate the support for this publication provided by the rice farmers of Arkansas and administered by the Arkansas Rice Research and Promotion Board.
The authors greatly appreciate the feedback and contributions of all growers, county agents, consultants, and rice industry stakeholders.