Arkansas Rice Update 9-10-21

Arkansas Rice Update 2021-25
September 10, 2021
Jarrod Hardke and Scott Stiles
"I wanna rock and roll all night, and party every day."
Harvest Progress
Jarrod Hardke
Warm sunny days, check. Low humidity and dew points, check. Dry breeze, check. Falling moisture and rapid grain maturity, check. Major harvest progress, check check!
It's amazing what can happen when the weather turns in our favor for just a little while. Harvest progress should be expected to exceed 40% in Monday's report given the continued favorable harvest weather this week.
Weather next week holds some rain chances but where and how much may fall are still subject to debate. Those with late rice and beans still needing water may welcome a rain, but most are hoping for continued dry weather to keep the combines rolling. A grower once told me "it's just as well we can't control the weather because we couldn't all agree on it anyway."
Yield reports are still overwhelmingly positive with some odd low fields thrown in as always. Milling yields are still variable but with some possible signs of improvement. It's still too early to tell for sure which way the milling trend will bear out though. Traditionally, lower milling yields to start the year see a trend for higher milling as we progress later. We'll see.
Table 1. Harvest progress by week, 2016-2021.
Fig. 1. NOAA 7-day precipitation forecast.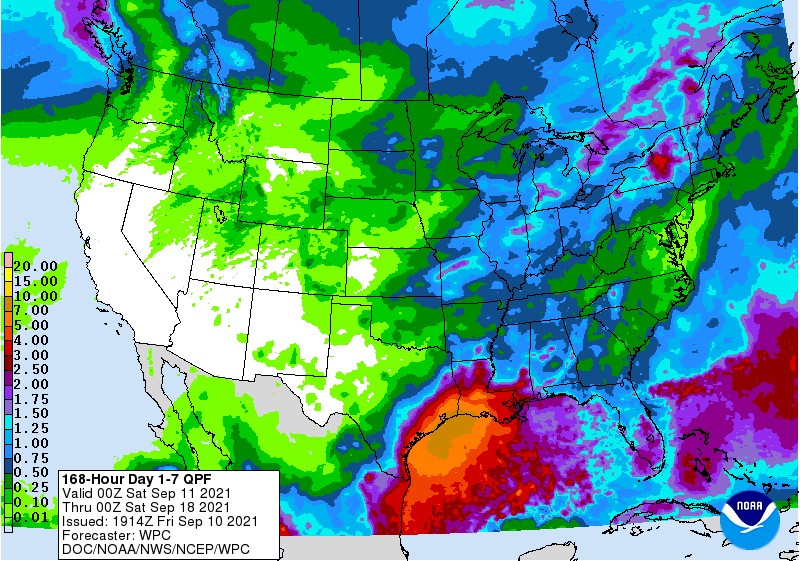 Estimating Harvest Loss
Jarrod Hardke
Each year there are questions about estimating rice yield lost out of the combine. Table 2 provides the straightforward answer, but it's not that simple. The combine doesn't spread residue as wide as the header in most cases (depending on how you set it), so simply counting the grains in a square foot behind the machine may overestimate or underestimate loss.
To be most accurate, you need to count the number of kernels in a strip the width of the header (Table 3). For instance, with a 30 ft header, you would need to count the kernels on the ground in a strip 30 ft wide and 4 inches long (which amounts to 10 square feet). Divide the kernels counted in that strip by 10 to get your number per square foot.
A simpler, and faster, approach is to think of the header width in sections. For a 30-ft header, think of it as having three 10-ft sections. Take a single square foot count in the center of each of these 10-ft sections, total the numbers and divide by three. This will give you the number per square foot and capture areas to the side and directly behind the combine, while taking a third of the time as the traditional method. Remember that when using this quicker method, you must be sampling in the residue swath – some set their combines to spread residue narrower or wider for various reasons.
Remember to count kernels on the ground in an area not yet harvested so that you account for shattered grain that isn't being lost from the harvesting process. Subtract any grain already on the ground from your harvest loss estimates.
Table 2. Converting rice field loss counts into bushels per acre.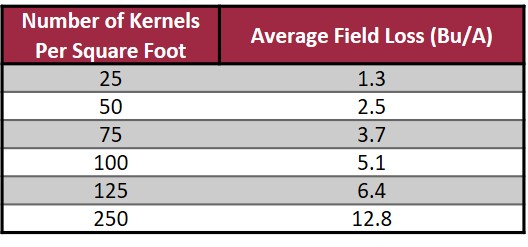 Table 3. Dimensions for field loss estimate.

Rice Market Update
Scott Stiles
Favorable news Friday in USDA's supply/demand and Crop Production reports. November rice futures closed 17 cents higher at $13.48/cwt. following the reports. USDA made several adjustments to the new crop long-grain balance sheet.
Beginning stocks were reduced 2.1 million cwt. on increases in old crop domestic use and exports.
By far the largest adjustment was a 5.8 million cwt. cut in production. Using FSA's certified acres this month (among other data sources) it appears the long-grain harvested acreage was reduced by 99,000 acres from the previous estimate used. NASS currently has long-grain harvested acres at 1.942 million, compared to 2.041 million in the June Acreage
Total supply was reduced 7.9 million cwt. from last month to 203.9 million.
Domestic and residual use was lowered by 3.0 million cwt to 115.0 million.
Exports were unchanged at 65.0 million cwt.
Total usage was reduced 3 million cwt. to 180 million.
Projected 2021/22 ending stocks were reduced by 4.9 million cwt to 23.9 million.
The 2021/22 season-average farm price was increased $0.10 per cwt to $13 or $5.85 per bushel.
U.S. Long-Grain Supply and Demand, 2021/22.
The old crop (20/21) season-average farm price for long-grain was unchanged this month at $12.60/cwt. or $5.67 per bushel. This would equate to a PLC payment for the 2020 crop of 63 cents per bushel (before sequestration). The table below includes the projected 2020 payment rates per bushel for long-grain and southern medium grain. Final 2020 marketing year average prices are expected to be announced October 29, 2021.
Crop Progress:
In Monday's Crop Progress USDA estimated that 28% of the U.S. rice crop had been harvested; three (3) percentage points ahead of last year and 3 points behind the 5-year average. Arkansas and Mississippi were both at 18% harvested; up from 6% the prior week. Missouri was in-line with its average pace at 6% harvested. Louisiana and Texas were 80 and 84% complete respectively.
Dry and warm conditions this week have allowed for significant headway in the Midsouth harvest. Based on historical data, Arkansas' should be 40 percent harvested by September 12th.

Gulf Shipping Update:
Earlier this week the U.S. Coast Guard opened the Lower Mississippi to barge traffic, with some restrictions on the number of barges that can be towed.
Some grain export operations have resumed this week. Louis Dreyfus Co. began loading soybeans last weekend; another ship was being loaded with corn yesterday. ADM restarted this week using rigs that can transfer grain from barges onto bulk ships. ADM expects elevators in Ama and Reserve to restart by the end of the month, and repairs to an elevator in Destrehan to take "a few weeks longer" according to a release this week.
At least three other terminals are still without power, including the CHS Inc facility in Myrtle Grove and Cargill's terminal in Reserve. Bunge's facility in Destrehan is also shut down.
Fertilizer Market:
CF Industries announced on Thursday (Sept. 9) that it has begun restarting its ammonia plants at Donaldsonville, La. Start-up of other units including urea and UAN will follow. CF had halted production just before Hurricane Ida hit land, however, the storm disrupted power to the plant. Gulf urea barge values hit a 9-year high last week.
DD50 Rice Management Program is Live
The DD50 Rice Management Program is live and ready for fields to be enrolled for the 2021 season. All log-in and producer information has been retained from the 2020 season, so if you used the program last year you can log in just as you did last year. Log in and enroll fields here: https://dd50.uada.edu.
Use the Arkansas Rice Advisor Internet App!
The Arkansas Rice Advisor site https://riceadvisor.uada.edu functions like an app on your mobile device. There you can readily access the DD50 program, rice seeding rate calculator, drill calibration, fertilizer and N rate calculators, publications, and more.
Additional Information
Arkansas Rice Updates are published periodically to provide timely information and recommendations for rice production in Arkansas. If you would like to be added to this email list, please send your request to rice@uada.edu.
This information will also be posted to the Arkansas Row Crops blog (http://www.arkansas-crops.com/) where additional information from Extension specialists can be found.
More information on rice production, including access to all publications and reports, can be found at http://www.uaex.uada.edu/rice.
Acknowledgements
We sincerely appreciate the support for this publication provided by the rice farmers of Arkansas and administered by the Arkansas Rice Research and Promotion Board.
The authors greatly appreciate the feedback and contributions of all growers, county agents, consultants, and rice industry stakeholders.