Arkansas Rice Update 8-13-21

Arkansas Rice Update 2021-21
August 13, 2021
Jarrod Hardke, Nick Bateman, Gus Lorenz, Ben Thrash, and Scott Stiles
"He just keeps on playing hide-and-seek with that hot August sun, he's sweatin' and pantin' cause his work is never done."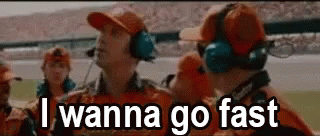 Harvest Looming
Jarrod Hardke
We're looking at an unsettled weather pattern for the upcoming week which may be a welcome turn for those tiring of season-long irrigation efforts, but ill timed for others. The earliest fields that have already been drained should be about ready for harvest to begin next week, and potential scattered storms could certainly put a damper on getting started.
We're at that stage where we want clean, clear, warm weather to finish up the crop and get it out under drier conditions. The possibilities of scattered storms and the beginning of activity in the Gulf are some causes for concern. But beyond a few days out there's little to be confident in with our weather predictions this year, so it's more of a "stay tuned" situation.
The upside is that conditions are still expected to stay fairly warm (if you believe the long-term forecast) which is really good considering half the crop was planted in May and June. This will hopefully set us up to finish up with solid yields on the later acres. One thing to keep in mind is that some of the odd weather and temperature occurrences from earlier in the year have further bunched together the crop, meaning that once we get rolling in harvest, even seemingly spread out planting dates are going to get ready a lot closer together. Be prepared to hammer down as soon as the opportunity presents itself as you likely won't need to check up for anything but weather.
Fig. 1. NOAA 7-day Precipitation Forecast.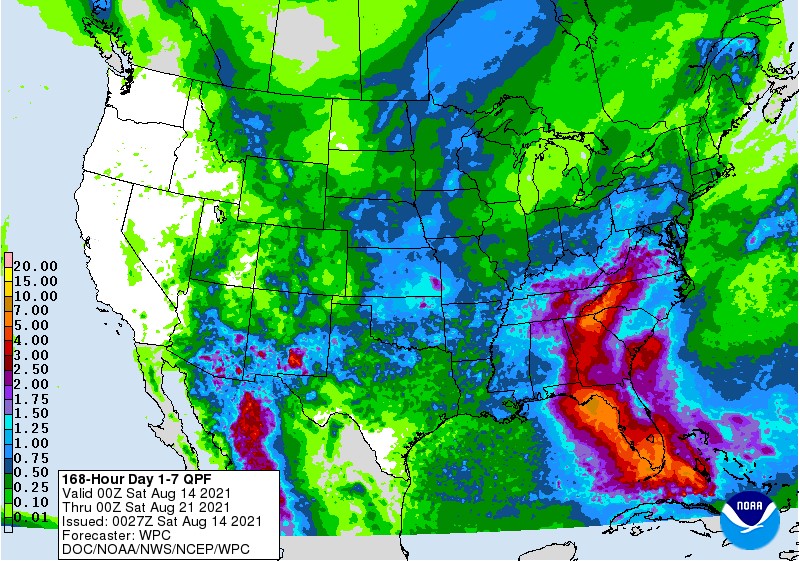 Rice Stink Bug Management and Current Options
Nick Bateman
We have had numerous phone calls over the past three weeks about rice stink bug control failures with lambda (Warrior II, Kendo, Lambda-Cy, Silencer, etc.). Before we go into what we are currently observing in the field, we need to address what constitutes a control failure. Nymphs, or the immature stage of rice stink bugs, is what we are keying on to determine if we have had a control failure. If we find large nymphs (cream colored) within 7 days of the application, then there is a good chance those nymphs were present or eggs were laid shortly after the application was made. If you are only finding adults then these are most likely new adults that have migrated into the field.
In our studies we sampled this week, we were only able to achieve 26-61% control of rice stink bug nymphs with a 1X rate of lambda (3.65 oz Lambda Cy) with an average control level of 50%. The reports we are receiving from growers and consultants are similar to the results we are seeing, with some cases being complete misses, with no change in the nymph population at 5 days after treatment.
As of today (8/13), Arkansas has received approval for the use of Endigo ZC for use in rice. This approval expires on Aug. 27th. The recommended use rate range is 4.5-6.0 oz/acre and there is a 21-day pre-harvest interval (PHI). Users must report applications of Endigo ZC to rice to the Arkansas Department of Agriculture within 10 days of application. The label and forms required for applications will be available on the Arkansas State Plant Board website.
The last thing I we want to mention is when can we terminate rice stink bug applications. We have done quite a bit of work on this and have determined that when we hit 60% straw-colored kernels on a panicle we can terminate rice stink bug applications. We do want to be pretty clean going into 60% straw coloration, because at high populations of rice stink bugs some damage can occur after 60% straw-colored kernels. The only time we would not recommend terminating at 60% is if we have several days of rain in the forecast. This can soften kernels and make it easier for rice stink bugs to damage kernels that would otherwise be past the point of receiving damage from rice stink bugs. Good luck finishing out this crop, and feel free to call us with any questions.
Cercospora – Narrow Brown Leaf Spot (NBLS)
Jarrod Hardke
Late season Cercospora was probably more responsible for some yields being off than many realize. However, so far this year very little has been observed. Unfortunately, Cercospora can sometimes show up late and only fungicide apps at the kernel or false smut timings prevent it. Given the upcoming forecast and possible conditions on some of this later rice, it's better to think through field histories on whether a fungicide application may be needed for protection.
If treatment is required, go with a triazole (such as Tilt). The later the rice is planted, the more it could possibly benefit from a fungicide application. The later the planting date, the earlier in rice growth Tilt should be applied. For example, Tilt can start being applied at 1/2" IE to prevent Cercospora. Rates of Tilt may have to lean higher than the 6 oz rate we more commonly use; instead, 8-10 oz may be needed for proper management of NBLS.
Fig. 2. Propiconazole sprayed strip at booting (left) and untreated strip (right) at LSU. Courtesy Dr. Don Groth.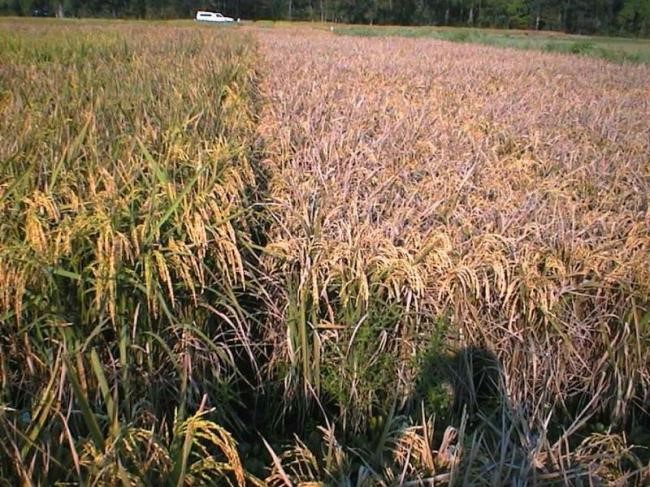 FSA Rice Acres by County
Jarrod Hardke
Below in the rice market update is a more thorough explanation of the acres by state and impacts on supply and markets. But if you're curious, here is the planted acreage by County in Arkansas based on the FSA Certified Acres released yesterday (8/12). Of particular note, if these acreage numbers hold, Poinsett Co. didn't have the most rice acres for the first time in at least 20 years (that's how far back I looked). Lawrence Co. currently has reported planting the most acres followed by Poinsett and Jackson Co. Believe it or not some counties actually increased acres compared to 2020 which had to do with "who got what rain when" during the spring it seemed.
Table 1. Arkansas rice acres by county certified with FSA, August 2021.
Rice Market Update
Scott Stiles
Rice futures began the week higher with Monday's Crop Progress indicating a slow start to harvest in Louisiana and Texas. Given that, the market kept a close eye on a tropical system heading into the Gulf of Mexico. Likely the most anticipated news came on Thursday with USDA releasing Export Sales, the August WASDE and Crop Production, and FSA's first report on certified acres.
Focusing on the U.S. long-grain balance sheet, USDA made one adjustment to old crop (20/21), lowering imports 1 million cwt. Also, the 20/21 season-average farm price was increased $0.10/cwt. to $12.60 or $5.67 per bushel. This would equate to a PLC payment for the 2020 crop of 63 cents per bushel. The table below includes the projected 2020 payment rates per bushel for long-grain and southern medium grain. Final 2020 marketing year average prices are expected to be announced October 29, 2021.

Turning to the new crop long-grain balance sheet, USDA reduced total supply on downward revisions to beginning stocks, production, and imports. Beginning stocks were lower on the 1 million cwt. reduction in old crop imports. The first survey-based 2021/22 production forecast reduced long-grain production by 2.3 million cwt to 150 million, on lower yields. With no adjustments to harvested acres this month, the projected long-grain yield appears to be 7,352 pounds per acre (163.4 bu./ac.) down 110 pounds from the previous trendline forecast. New crop imports were lowered 1.0 million cwt. to 30.0 million. Total supply was reduced 4.3 million cwt. from last month to 211.8 million.
Domestic and residual use was lowered by 2.0 million cwt to 118.0 million. Exports were increased by 2 million to 65.0 million cwt. on sales to Iraq for the first time in two years. Thus, no net change month-to-month in total usage at 183 million cwt.—which is the same as 20/21.
Projected 2021/22 ending stocks were reduced by 4.3 million cwt to 28.8 million, down 9.4 percent from last year. The 2021/22 season-average farm price was increased $0.10 per cwt to $12.90 or $5.81 per bushel. At $12.90, the average farm price would be the highest since 2013/14.
U.S. Long-Grain Supply and Demand, 2021/22.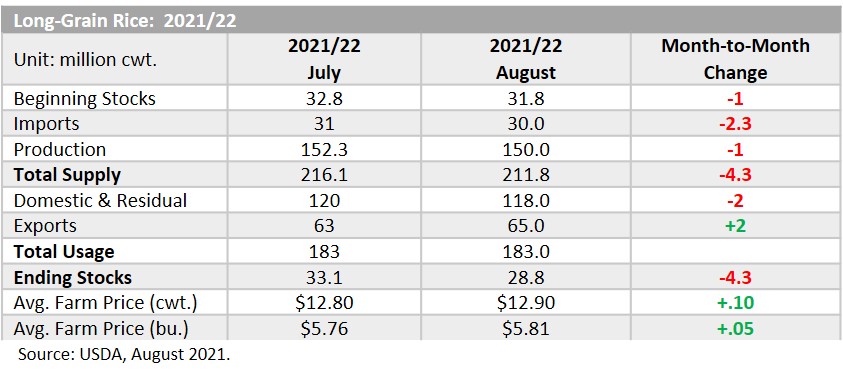 Also on Thursday, USDA's Farm Service Agency released its first 2021 report on certified crop acres. The tables below provide a state-by-state look at long-grain and medium grain acres certified as of August 1st. For comparison, the planted acres from NASS' June Acreage survey are also included.
Long-Grain Certified Acres, as of August 2021.

Medium-Grain Certified Acres, as of August 2021.

When all is running smoothly at FSA county offices, the initial August report has generally accounted for 99% of final certified rice acres in Arkansas. With COVID-19 posing challenges last year, about 96% of the final acreage total was in FSA's 2020 August report. With the resurgence in COVID, data collection at county FSA offices is still a bit behind the "normal" pace. That may explain some of the noticeably wide differences between NASS Acreage and certified acres collected to date. Nonetheless, let's assume for instance that growers have in fact reported 96 to 99% of acres to FSA. If that's the case, one could argue that Louisiana and Missouri's long-grain acreage could fall well short of NASS' June Acreage. The same might be said about California's medium grain acreage. These acreage disparities will be scrutinized by the rice market over the coming months. FSA will release its next update on certified acres September 10th.
Crop Progress:
In Monday's Crop Progress USDA estimated that 74% of the U.S. rice crop had reached heading, 1 percentage point ahead of last year but 6 points behind the 5-year average. Arkansas' crop was 67% headed as of August 8; up from 49% the previous week.
Nationally, 7 percent of rice has been harvested, two percentage points behind last year and 1 point behind average. No harvest was reported for Arkansas. Harvest in the Deep South moved ahead with Louisiana at 33% complete as of Sunday; up from 13% last week. Texas' harvest has been off to a slow start and was estimated at 25% complete; up from 7% the prior week.

DD50 Rice Management Program is Live
The DD50 Rice Management Program is live and ready for fields to be enrolled for the 2021 season. All log-in and producer information has been retained from the 2020 season, so if you used the program last year you can log in just as you did last year. Log in and enroll fields here: https://dd50.uada.edu.
Use the Arkansas Rice Advisor Internet App!
The Arkansas Rice Advisor site https://riceadvisor.uada.edu functions like an app on your mobile device. There you can readily access the DD50 program, rice seeding rate calculator, drill calibration, fertilizer and N rate calculators, publications, and more.
Additional Information
Arkansas Rice Updates are published periodically to provide timely information and recommendations for rice production in Arkansas. If you would like to be added to this email list, please send your request to rice@uada.edu.
This information will also be posted to the Arkansas Row Crops blog (http://www.arkansas-crops.com/) where additional information from Extension specialists can be found.
More information on rice production, including access to all publications and reports, can be found at http://www.uaex.uada.edu/rice.
Acknowledgements
We sincerely appreciate the support for this publication provided by the rice farmers of Arkansas and administered by the Arkansas Rice Research and Promotion Board.
The authors greatly appreciate the feedback and contributions of all growers, county agents, consultants, and rice industry stakeholders.