Arkansas Rice Update 7-16-21

Arkansas Rice Update 2021-18
July 16, 2021
Jarrod Hardke, Nick Bateman, Gus Lorenz, Ben Thrash, Yeshi Wamishe, and Scott Stiles
"Won't you roll on down the road just let it roll."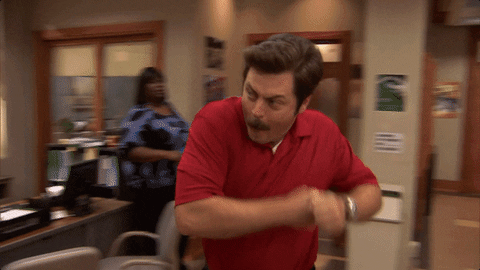 Taking Shape
Jarrod Hardke
The 2021 rice crop finally appears to be taking shape. We're entering the major push to heading for the majority of the crop over the next couple of weeks. The overall outlook for upcoming conditions is positive at this point with average temperatures day and night along with some continued rain chances including today.
Today and the next few days carry decent rain chances that should help us with irrigation efforts. Rice that has begun to head and flower we hope to avoid mid-day showers that could disrupt pollination. Any strong winds that accompany storms may also lead to blanking of kernels and sections of panicles from physical damage (heads hitting other plant parts damaging flowering kernels).
High humidity and regular rainfall events could also exaggerate disease situations, so be diligent in scouting for sheath blight. Also be mindful of possible blast development on susceptible cultivars. As heading begins so too does stink bug pressure. Scout, scout, scout for insects and disease. One other big insect item covered in detail in the update this week is armyworms hitting rice fields – keep your eyes peeled!
Fig. 1. NOAA 7-day Precipitation Forecast.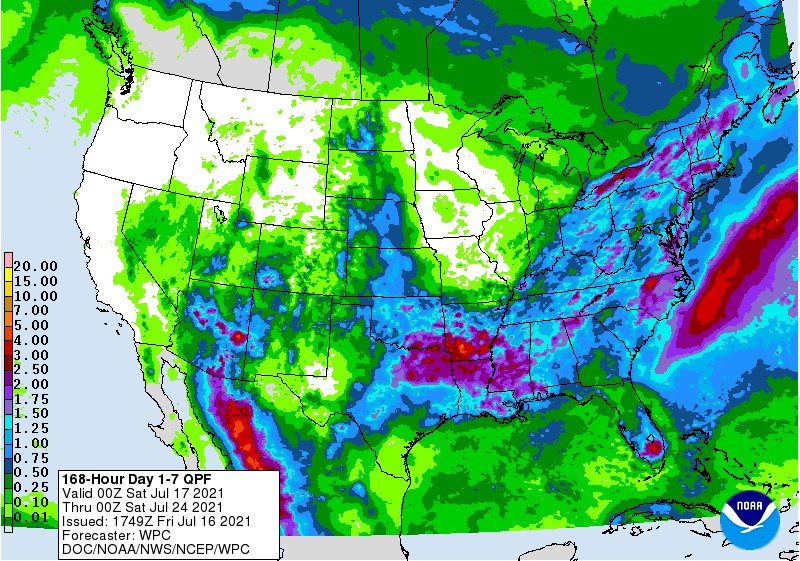 Armyworms and Stink Bugs in Rice
Nick Bateman, Gus Lorenz, and Ben Thrash
Armyworm calls have picked up big time this week. A majority of the fields with armyworms in them is row rice at various stage, spanning from early tiller all the way up to half-inch joint movement. Some of these fields have high numbers of worms in them, 2-4 per plant, and a large amount of defoliation occurring. Our threshold for defoliation in rice is: No treatment is warranted for rice between the seedling and 2-3 tiller growth stages unless armyworms are able to feed on the growing point. For May and June plantings, armyworms should be treated when defoliation exceeds 40% at 5-6 tiller and 20% at green ring. During heading, treat if head clipping is occurring and armyworms are present.
Our work over the past 4 years has shown that the later we plant the worse yield is impacted from defoliation (Table 1). Armyworms have the potential to do large amounts of defoliation in a short amount of time. Fields with armyworms in them should be monitored closely to ensure we do not exceed these defoliation thresholds. If applications are warranted, we are recommending lambda-cyhalothrin (Warrior II, Lambda-Cy, ect.) plus Dimilin 2 L. We have seen a lack of control in some cases with straight lambda. The Dimilin will also provide some residual.
Table 1. Yield and maturity delays caused by defoliation at green ring.

Now that we have rice reaching 50-75% heading we are starting to spray for rice stink bugs. Numbers have ranged from right at threshold to 30-40 on 10 sweeps. Based on our assays from this year (Table 2), we are getting adequate control from lambda. With that being said, we need to follow up these applications within 3-4 days to determine the efficacy. It is common to see adults shortly behind an application and this is typically new stink bugs moving in. If nymphs are found shortly behind an application, that is a sign of potential resistance issues. We have seen some issues with lambda late in the heading season (late August through September) but none during July and August. If you have concerns that you missed stink bugs with lambda, please contact one of us so we can conduct assays.
Table 2. Control of rice stink bug with lambda-cyhalothrin.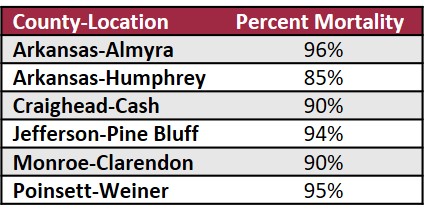 Fig. 2. Armyworms defoliating rice.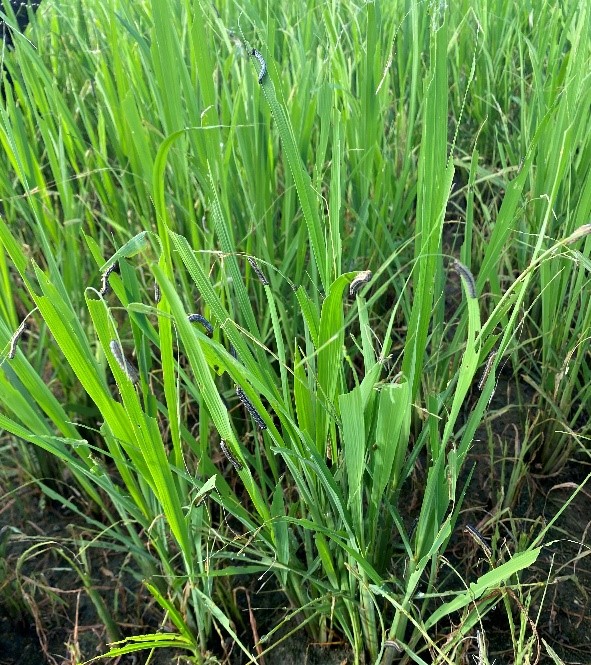 Fig. 3. Armyworms sampled from rice field.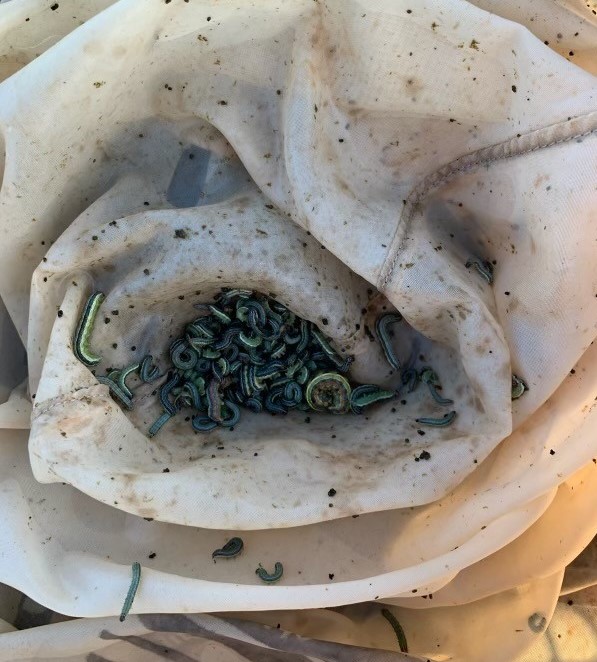 Soil-Applied Nitrogen or Foliar Nitrogen?
Jarrod Hardke and Trent Roberts
As has been common this time of year the past few years, there are recommendations being made to apply nitrogen (N) using a foliar spray application piggy-backed with a fungicide instead of applying urea at late boot to hybrid rice. The reasoning is straightforward – it's cheaper to add in a foliar N product if you're already going across the field with a fungicide. The problem is, there is no evidence to support that a foliar N product can supply the needed amounts of N that a urea application can.
For hybrid rice, we recommend applying 30 lb N/acre (65 lb urea) at late boot (flag leaf collar visible) up to beginning heading. From midseason and beyond, rice is capable of taking up urea N with high efficiency (70% uptake). Foliar applications of N products cannot supply these N rate levels. A foliar N product containing 32% N can only deliver 3.2 lb N per gallon (for a product with a weight of 10 lb/gal). Even if a foliar is taken up with the same high efficiency as urea, 70% of a 3.2 lb/gal foliar is just 2.2 lb N versus 70% uptake of 30 lb N as urea is 21 lb N.
Again, there are charts being sent around that suggest 1 lb N applied foliarly is equal to 5-10 lb N applied to soil. This is false – a pound is a pound.
If you attempt to increase the rate of a foliar N product to compete with urea, then you have the issue of it becoming very cost-prohibitive, and the chances of severe foliar burn to rice increase. Stick with urea for the late boot application on hybrids – years of data show increases in grain yield, head rice, and total rice. Each of these increases alone is small but put together generate a nice return on investment for the urea application.
Fig. 1. Burn on rice from foliar N application.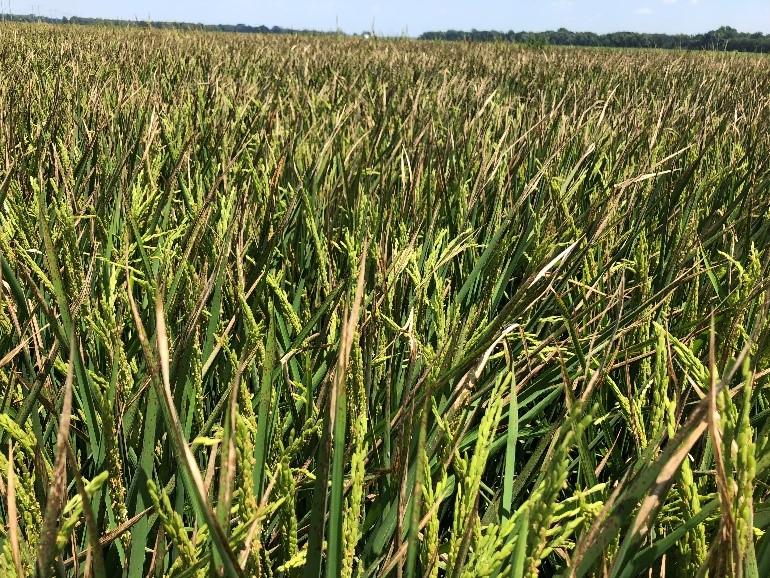 Rice Growth Stages and Fungicide Timing for Smuts
Jarrod Hardke and Yeshi Wamishe
Most rice cultivars today go from beginning internode elongation (BIE / green ring) in 25-35 days depending on planting date, weather, and growing conditions. For simplicity, let's call it 28 days from green ring to 50% heading.
Consider the following generalization:
Day 0 is Green Ring (BIE);
Day 7 is ½" Internode Elongation (1/2" IE);
Day 14 is Mid-Boot (flag leaf "points");
Day 21 is Late Boot (flag leaf collar visible);
Day 28 is 50% Heading.
From this description, the optimum timing to apply fungicides for kernel or false smut suppression is Day 14 to Day 24 (mid-boot to just into late boot). Waiting until too close to full boot or boot split and 50% heading reduces fungicide efficacy because time is needed to move the fungicide in the plant where it can protect the kernels.
Too often we're seeing blanket recommendations for fungicides to prevent smuts in rice. It's important to consider several factors before making that fungicide application for kernel smut and false smut.
Decision-Making Checklist for Fungicide Applications to Prevent Kernel and/or False Smut
Field History of Kernel Smut or False Smut
Susceptible Cultivar
Late Planting Date (mid-May and later)
Excessive Nitrogen Rate
The more factors you can 'check', the more beneficial a fungicide application may be. Apply a minimum of 6 oz/acre of Tilt (or equivalent) for adequate suppression of smuts. If Amistar Top is used, higher rates are preferred at least 12-14 oz/acre rate.
Rice Market Update
Scott Stiles
On Monday this week USDA released its monthly WASDE report. The most significant adjustments this month for long-grain were made to the old crop (20/21) balance sheet. There were no supply changes. However, old crop domestic and residual was lowered by 5 million to 118 million cwt. Exports were increased 1 million to 65 million cwt. – slightly above 2019's 64.8 million. As of July 8, long-grain old crop export sales are 3% ahead of the prior year. Shipments are 1% ahead. Rough rice sales are doing all the work. Milled sales are 27% below last year with none reported to Iraq. With a 5 million reduction in domestic use and a 1 million increase in exports, the net change was a 4 million increase in 20/21 ending stocks to 32.8 million.
Turning to new crop (21/22), beginning stocks were increased 4 million cwt. to 32.8 million. Imports were unchanged from last month at 31 million. Imports are record large and up 11% from last year. New crop long-grain production was unchanged this month at 152.3 million—down 11% from 2020. Survey-based yield projections will be used in August. Of note, total supply is very near unchanged from a year ago at 216.1 million cwt.
For new crop demand, domestic use was lowered 1 million cwt to 120 million; the highest on record. Exports were increased 2.0 million cwt to 63.0 million. This is down marginally from 65 million in 20/21. USDA expects more export competition from South America in 21/22. Projected 2021/22 long-grain ending stocks were raised by 3 million cwt to 33.1 million. The 2021/22 season-average farm price is unchanged this month at $12.80 per cwt. The 20/21 season average farm price was lowered 10 cents to $12.50 per cwt.
The projected 2020 PLC payment for long-grain was increased slightly this month, with a current projected payment rate of 67 cents per bushel (before sequestration). The projected 2020 PLC payment rate for southern medium grain is 45 cents per bushel.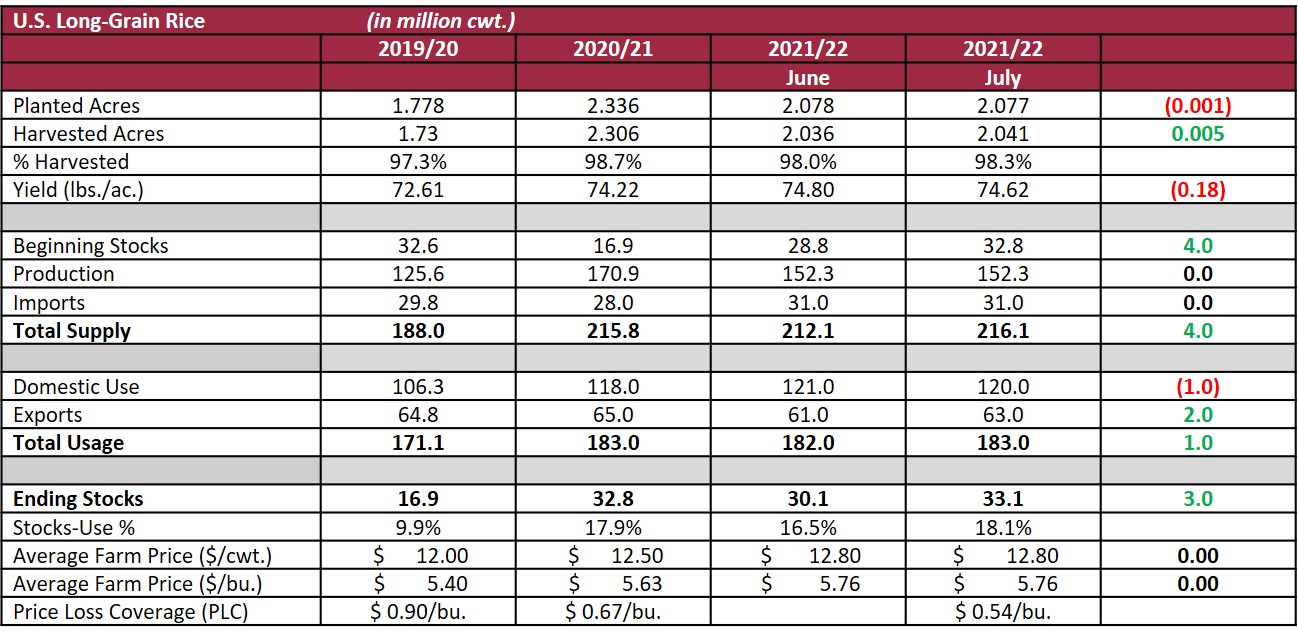 Rice futures recovered this week with the September contract trading Friday morning about 38 cents/cwt. above last Friday's close. Flat price offers for August to October delivered rice are in the $5.76 to $5.89 range. September rice futures may hit some chart resistance in the $13.40 to $13.60 range; a congestion area the contract trading in prior to the June Acreage report.
CBOT Rough Rice Sep '21 (ZRU21)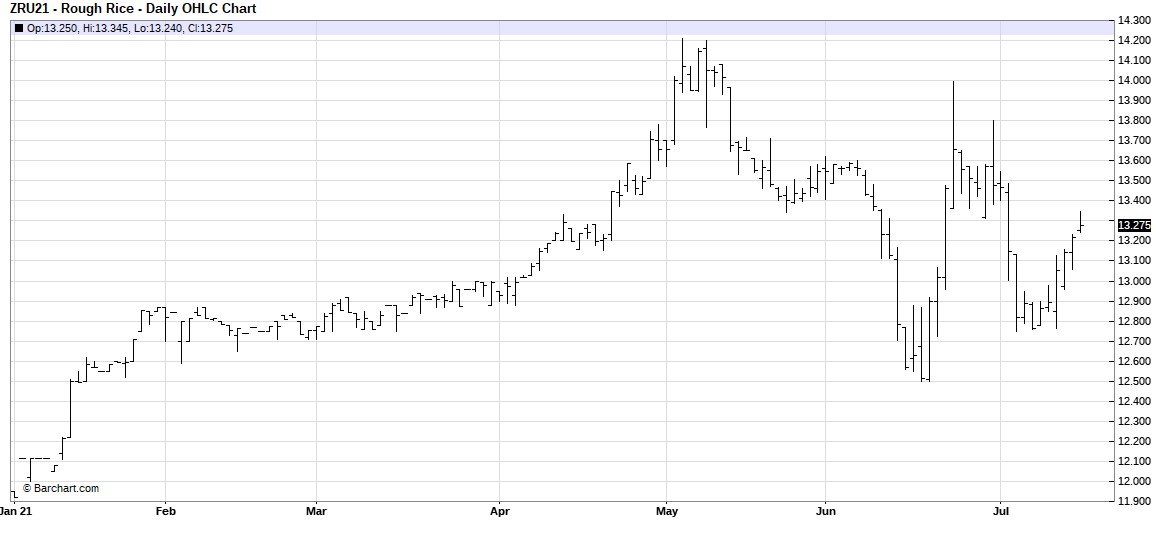 CBOT grains in general have had a good week with November soybeans again trading above $14 per bushel. Extremely hot and dry weather is forecast to settle over the Dakotas next week. North and South Dakota have a combined 12.7 million acres of soybeans this year. Every bushel counts in 2021.
DD50 Rice Management Program is Live
The DD50 Rice Management Program is live and ready for fields to be enrolled for the 2021 season. All log-in and producer information has been retained from the 2020 season, so if you used the program last year you can log in just as you did last year. Log in and enroll fields here: https://dd50.uada.edu.
Use the Arkansas Rice Advisor Internet App!
The Arkansas Rice Advisor site https://riceadvisor.uada.edu functions like an app on your mobile device. There you can readily access the DD50 program, rice seeding rate calculator, drill calibration, fertilizer and N rate calculators, publications, and more.
Additional Information
Arkansas Rice Updates are published periodically to provide timely information and recommendations for rice production in Arkansas. If you would like to be added to this email list, please send your request to rice@uada.edu.
This information will also be posted to the Arkansas Row Crops blog (http://www.arkansas-crops.com/) where additional information from Extension specialists can be found.
More information on rice production, including access to all publications and reports, can be found at http://www.uaex.uada.edu/rice.
Acknowledgements
We sincerely appreciate the support for this publication provided by the rice farmers of Arkansas and administered by the Arkansas Rice Research and Promotion Board.
The authors greatly appreciate the feedback and contributions of all growers, county agents, consultants, and rice industry stakeholders.