Arkansas Rice Update 5-7-21

Arkansas Rice Update 2021-08
May 7, 2021
Jarrod Hardke, Scott Stiles, and Tommy Butts
"Rainy days and Mondays always get me down…"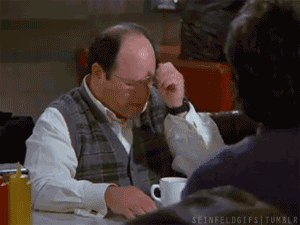 Waiting Game Continues
Jarrod Hardke
While the majority of the state stood still for another week, our planting progress did update to 63% (Fig. 1). This seems to mostly be a catchup on progress from the previous report. The reality is that time is beginning to dwindle on the 2021 rice crop.
If you consider that we originally intended to plant 1.25 million acres, and stand at 63% progress, then only 750,000-800,000 acres of rice have been planted to date. The weather outlook suggests that planting may not really continue until after May 15th. While there are still a good number of acres intended for rice, the prospects of them shifting to more and more soybeans are growing. If something doesn't change very soon, it is entirely possible that we fail to plant 1 million acres of rice in Arkansas for the first time since 1983 and the 1970s.
The wet springs of the previous two seasons still saw us plant 1.12 and 1.44 million acres of rice, and we planted well into June to achieve those numbers. However, rice prices penciled out well in favor compared to soybeans. Here in 2021, even with rice prices improving, soybean is running to a level that demands increased attention and is going to get it.
Fig. 1. AR Rice Planting Progress, 2010-2021.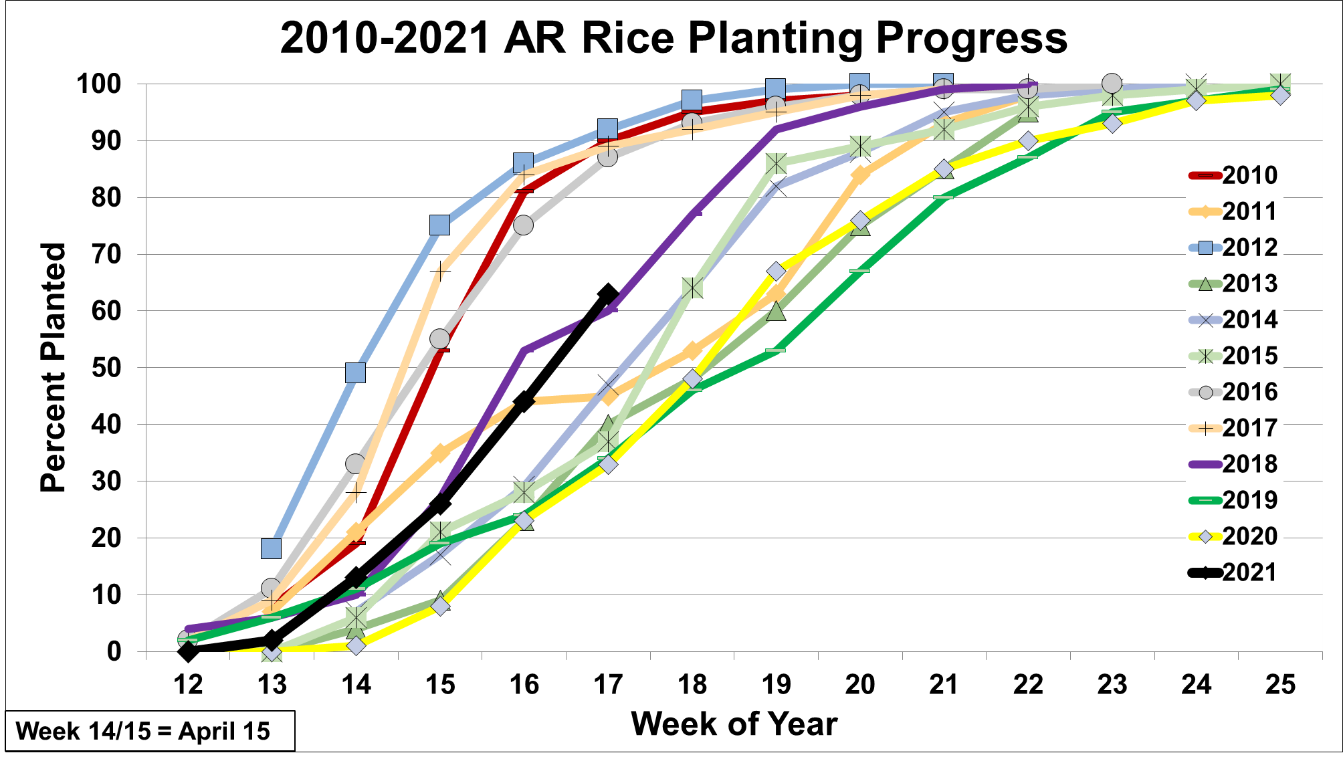 Fig. 2. NOAA 7-day precipitation forecast.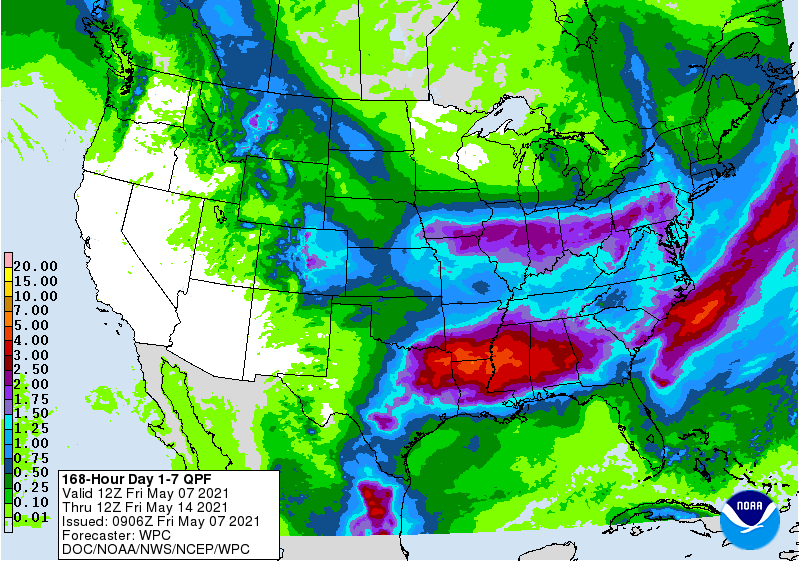 Random Problems
Jarrod Hardke
Depending on exactly when you planted and sprayed, Command (clomazone) is either turning rice a little white or a lot of white leading to some eventual plant death from multiple factors (Fig. 3). The trend in this has been very obvious in our planting date studies where very early plantings and mid-April plantings have only been mildly affected while the early April planting has been hit fairly hard. Time to rice emergence, and conditions upon emergence, have played large roles. Generally speaking, the plant death is likely due to delays in growth from Command and weather that have allowed seedling diseases to take hold. The past few days of sunny conditions and decent warm temperatures should help outgrow the situation, but next week's cool down with more rain could lead to additional concerns on small rice.
Fig. 3. Command injury to rice varying by planting date and cultivar.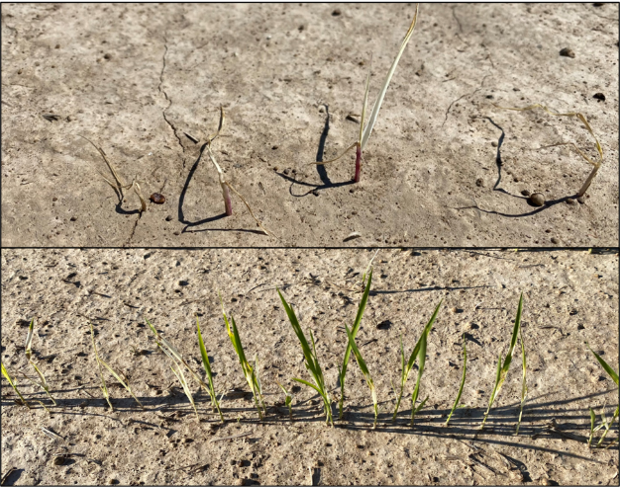 Bermudagrass has shown up as a problem in some spots. Annual bluegrass (Poa annua) has also been more persistent this spring. For both of these issues, there is not much to do in terms of herbicide applications. They are both small grasses that rice can outgrow. For each of them different herbicides may be more or less effective at burning them some but there are no real viable control options. The goal is really to let POST herbicides we're already using work on them some and then let the flood take them out. In the case of row rice, particularly with bermudagrass, if the infestation is extremely heavy it could be competitive enough to 'possibly' warrant a replant, but if we can push the rice we should still be able to out-compete it and farm on. These grasses, under the right conditions, will not be controlled by tillage alone, and that has led them to become re-established in some fields after field preparation where no burndown was used to finish them off. Bluegrass in many instances has simply continued to emerge with the cool wet conditions despite early burndown attempts.
Ryegrass, ryegrass, ryegrass
Tommy Butts
Ouch (Fig. 4). We've received a ton of phone calls and pictures on Italian/annual ryegrass this spring. It's easily moved into our top 5 of most problematic weeds across cropping systems here in Arkansas. Herbicide resistance continues to spread with confirmed resistance to ALS-inhibitors and glyphosate common across the state. There are also some reports of resistance to clethodim in south Arkansas (and across the river in Mississippi).
Fig. 4. Ryegrass present in emerged rice field.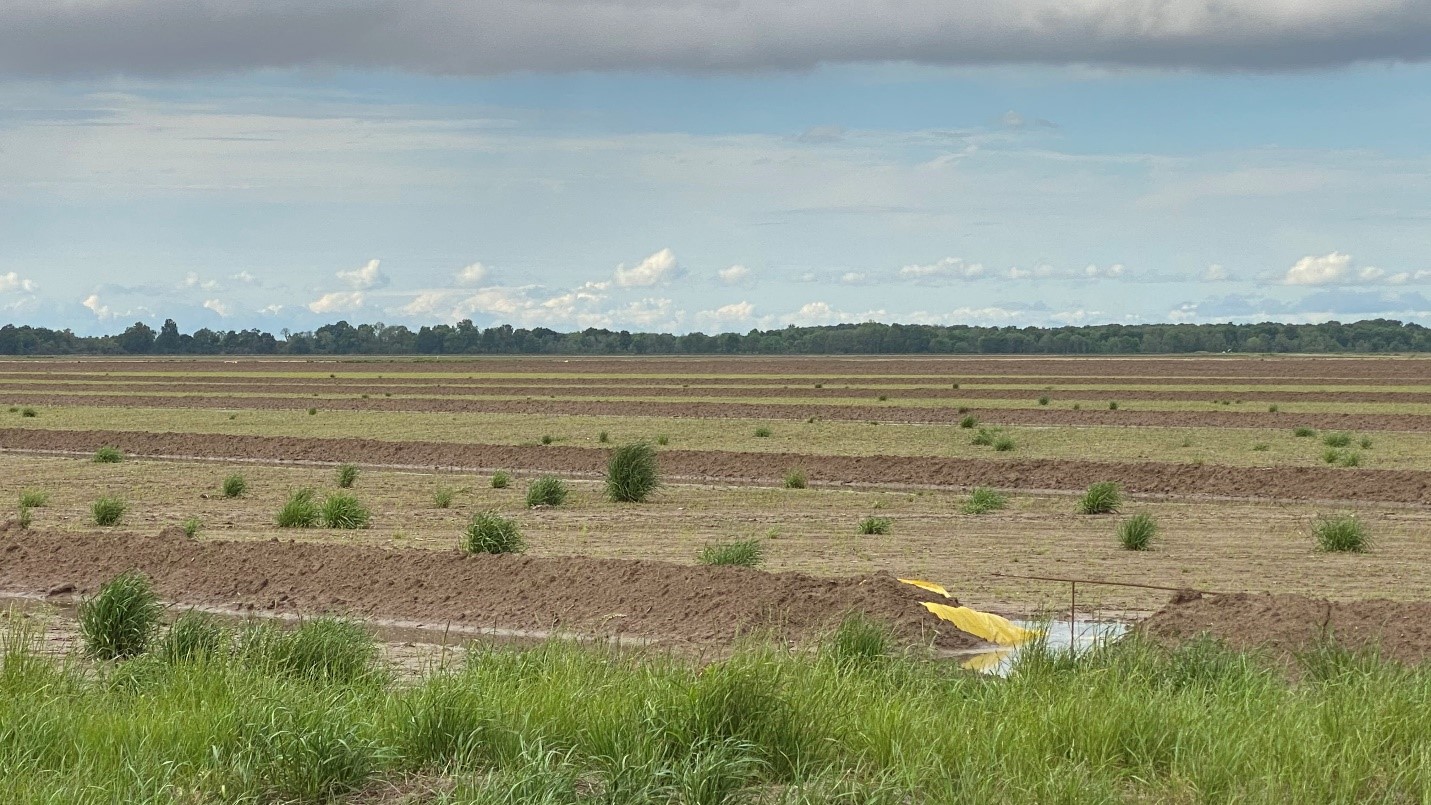 For complete control, ryegrass must be eliminated prior to crop emergence. In the instance of Fig. 4, there is nothing POST in rice that will kill ryegrass, especially now that it is heading out. Those plants will be there until flood.
Prior to rice emergence, clethodim is an option that will provide excellent control, but there is a label required 30-day plant-back as severe injury can result if rice is planted sooner. The best option for the successful management of ryegrass ahead of rice is to use sequential applications of paraquat (Gramoxone). One application will not be enough as regrowth will occur (Fig. 5), so I recommend applying the first shot approximately 2 weeks before intended planting, and then apply the second shot at planting tank-mixed with the intended PRE residual program.
For more information on ryegrass management, see our following resources:
Please feel free to get ahold of me with any questions, and good luck out there!
Fig. 5. Regrowth of Italian ryegrass following a single application of paraquat (Gramoxone 3 lb) at 40 fl oz/ac.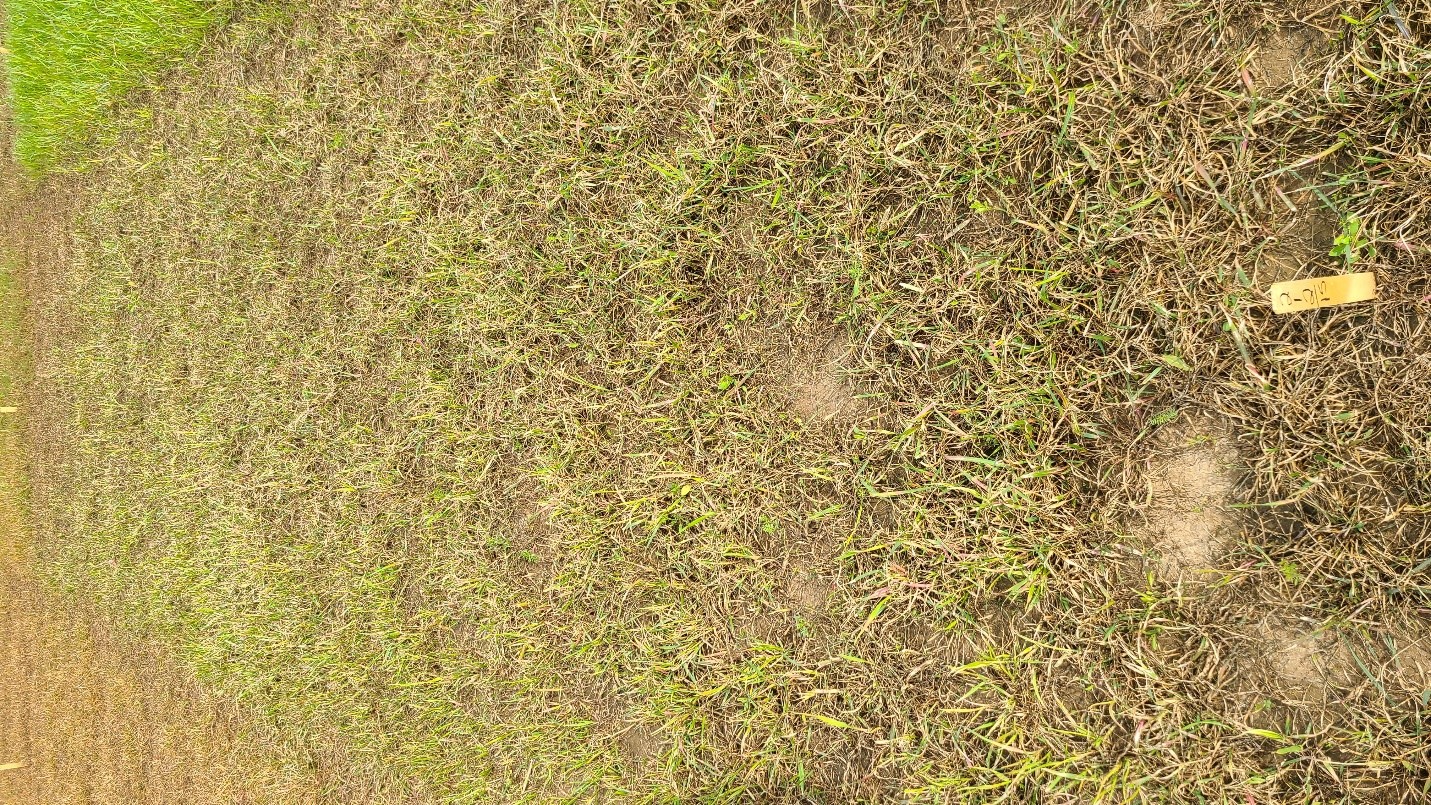 Rice Market Update
Scott Stiles
Another week, another contract high for September rice with trading pushing past the psychologically and technically important $14 mark. The chart below provides a year-to-date look at the September contract that started 2021 at $11.92. Overall, the chart or technical view of rice remains constructive and with no signs (so far) of a market top or reversal. Beyond $14 a retest of the 2014 highs now comes into view, which is in the $14.40 to $14.60 range.
Also included at the bottom of the chart below is the 14-day relative strength index (RSI). It closed at 72.75 Thursday afternoon. It doesn't necessarily reflect a deeply overbought market. But, a RSI at/above 80 often indicates the market is ready for a correction lower.
CBOT September 2021 Rough Rice Futures, Daily Chart.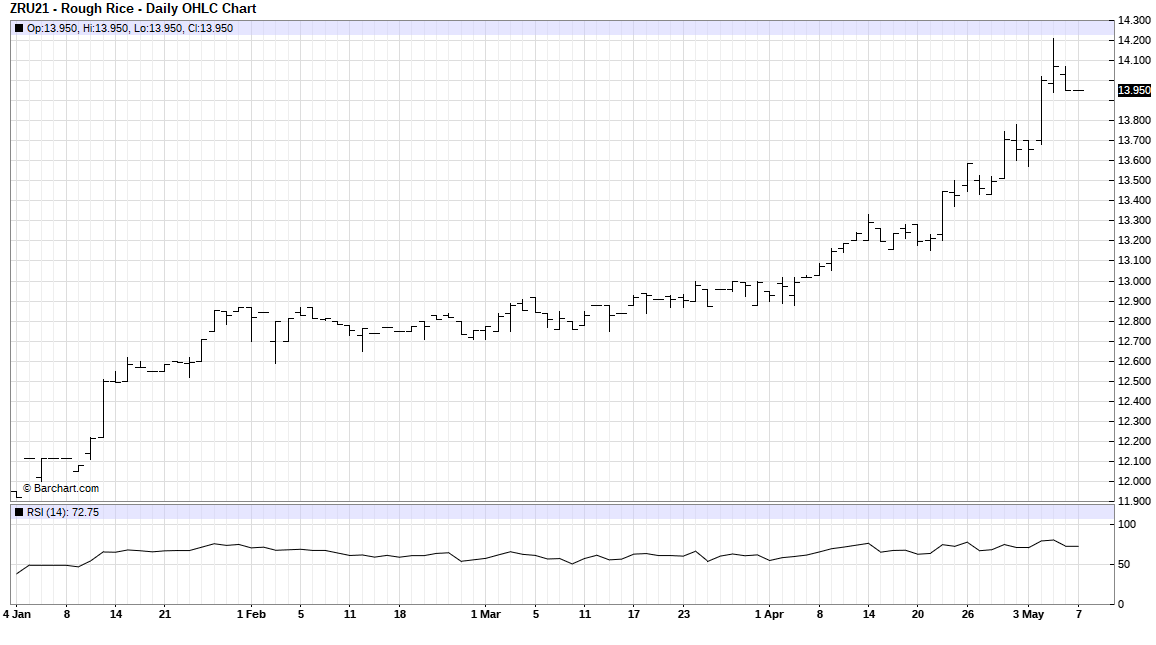 New crop rice basis this week is generally 16 to 23 cents per bushel under futures at driers / local elevators placing fall delivery (Aug. – Oct.) bids in the $6.05 to $6.12 per bushel range. Mill basis is 9 cents under futures for fall delivery with bids near $6.19 as of Thursday's close.
Where to from here? I'll refer you to this:

There are many moving parts in the rice market. As has been mentioned often in this newsletter, the long-grain balance sheet is well-supplied going into the 2021 crop year at 30.8 million cwt. If milled rice exports don't improve over the remaining 13 weeks of the marketing year, stocks could increase a bit more. But all that matters little to the futures market. Surprisingly, the basis market isn't collapsing as futures continue higher. A possible indication the rice market is expecting to see more than an 11% year to year decline in U.S. long-grain acres (15% in Arkansas).
What else is driving rice prices? Competing crops. Corn and soybeans continue higher, which makes it nearly impossible for rice to head in the other direction. With September Corn at $6.50 and November Soybeans at $14.22 at the time of this writing, rice might lose more acreage than previously indicated in the March Prospective Plantings. Recent weather and planting challenges are not helping rice hold acres either.
What else? The commodity run-up is front page news now. Everyone knows about record high lumber and copper prices and how it costs $36,000 more to build a house now. Speculators are dumping money into commodities and grains are part of the investment mix. Of note, the managed money futures and options position in CBOT rice has been net long for 74 straight weeks (this week should make it 75) going back to December 3, 2019.
May Supply/Demand
The USDA will update the supply/demand balance sheets and world production numbers on May 12th. Adjustments to Brazilian grain production will be of particular interest given the ongoing drought in the southern region of the country. From a news perspective, the situation in Brazil has been more of a "corn" story. Given where the drought is situated, one wonders if there is a "rice" story as well and another export opportunity for the U.S. At any rate, Brazil's weather forecast remains hot and dry for the key second corn crop producing states of Mato Grosso, Parana, and Mato Grosso do Sul. All of central and southern Brazil is forecast to receive little to no precipitation over the next week. This multi-week story has provided a lot of fuel for the corn market and in turn soybeans, wheat and rice, milo, cotton, the list goes on.
The May WASDE will also include the first new crop (21/22) balance sheets. The March Prospective Plantings survey will be used as a starting point for 2021 planted acreage.
Crop Progress:
U.S. rice planting progress rose from 47% to 64% complete as of May 2; slightly ahead of the 5-year average of 60% and well ahead of last year's 48 percent. Arkansas' planting progress advanced 19 points to 63% complete. Seemingly fast compared to last year's 46% and 2019's 41% on the same date.
Rice: Percent Planted as of May 2.

The 5-year average planting pace for Arkansas should be close to 71% next week. Little (or no) week-to-week change in planting progress is expected in Monday's Crop Progress. Rain chances over the next five days and low temperatures potentially dipping to the upper 40s/low 50s is not helpful. In addition to the weather, continued price increases in corn, soybeans and diesel may shove rice planting to 100% fairly soon.
NYMEX Diesel Futures, Nearby Daily chart.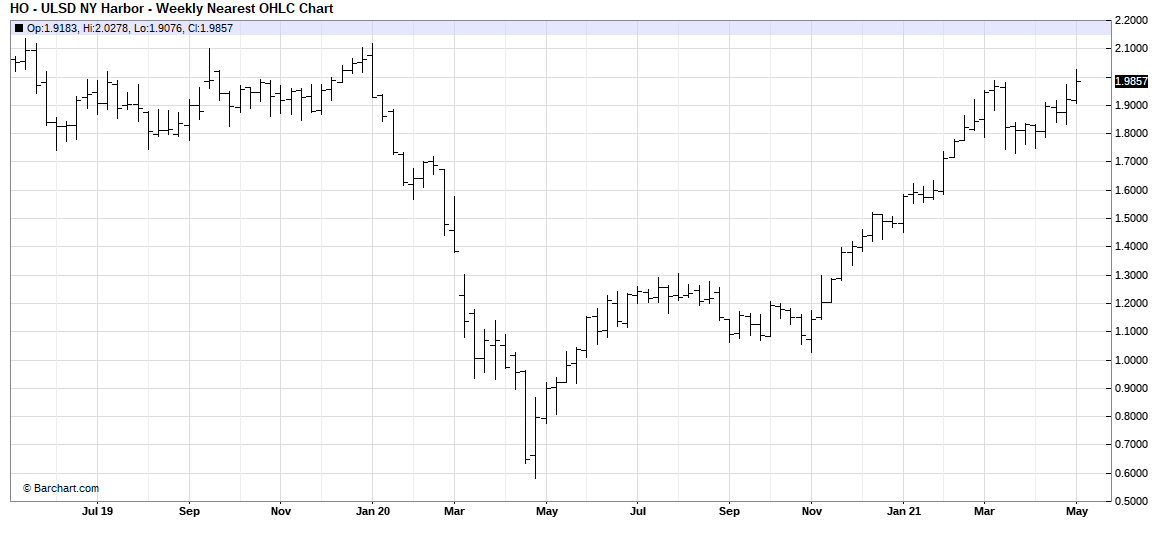 Diesel futures continued higher this week, with trading ranges moving above $2/gallon. The energy markets are pricing in a "return to normal" and improving economic activity. NYMEX diesel prices are almost $1.10/gal higher than a year ago and appear headed for the January 2020 high at $2.1195.
Row Crops Radio Podcasts
Check out these podcast episodes by following the link or by listening to them on Arkansas Row Crops Radio wherever you listen to podcasts.
Weeds AR Wild, Ep. 10: Row Rice Weed Control (5-6-21)
DD50 Rice Management Program is Live
The DD50 Rice Management Program is live and ready for fields to be enrolled for the 2021 season. All log-in and producer information has been retained from the 2020 season, so if you used the program last year you can log in just as you did last year. Only field data from 2020 has been removed. Log in and enroll fields here: https://dd50.uada.edu.
Here's an article from last year on the DD50 program: Use the DD50 Rice Management Program to Stay Ahead.
Use the Arkansas Rice Advisor Internet App!
The Arkansas Rice Advisor site https://riceadvisor.uada.edu functions like an app on your mobile device. There you can readily access the DD50 program, rice seeding rate calculator, drill calibration, fertilizer and N rate calculators, publications, and more.
Additional Information
Arkansas Rice Updates are published periodically to provide timely information and recommendations for rice production in Arkansas. If you would like to be added to this email list, please send your request to rice@uada.edu.
This information will also be posted to the Arkansas Row Crops blog (http://www.arkansas-crops.com/) where additional information from Extension specialists can be found.
More information on rice production, including access to all publications and reports, can be found at http://www.uaex.uada.edu/rice.
Acknowledgements
We sincerely appreciate the support for this publication provided by the rice farmers of Arkansas and administered by the Arkansas Rice Research and Promotion Board.
The authors greatly appreciate the feedback and contributions of all growers, county agents, consultants, and rice industry stakeholders.