Arkansas Rice Update 5-14-21

Arkansas Rice Update 2021-09
May 14, 2021
Jarrod Hardke and Scott Stiles
"It's been a long, long long year. How did I get here?"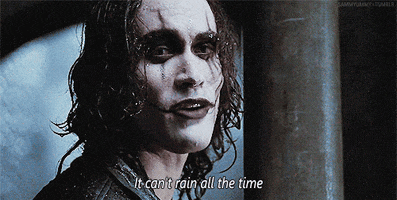 'Twas the Weather Killed the Rice Acres
Jarrod Hardke
Somehow, we made another jump in planting progress in Monday's report to 77% (Fig. 1). Considering not much happened in the week prior that's probably a good indication of our progress being further along simply by not planting anything. Meaning more acres are shifting as we sit still.
Equipment had finally made it in the field this week when rains hit on Tuesday, but amounts were variable across the delta. Returns to the field began Thursday where possible and the push will continue through the weekend. However, 40-50% rain chances exist for Monday through Friday next week, so all bets are now off. Should some or all of that rain occur, we'll be knocking on June's door. Right now, the 7-day rainfall amounts don't look good (Fig. 2), but let's definitely hope we don't see the bullseye shift to the east and drop some very large amounts.
In the past two years, rice prices were favorable enough over soybean to keep a push for acres into June, sometimes well into June. That's not the case this year, though rice prices have increased, soybean price and the calendar dictate a change. Nobody wants to harvest rice in November and December, and soybean becomes the safer and potentially more profitable play.
Fig. 1. AR Rice Planting Progress, 2010-2021.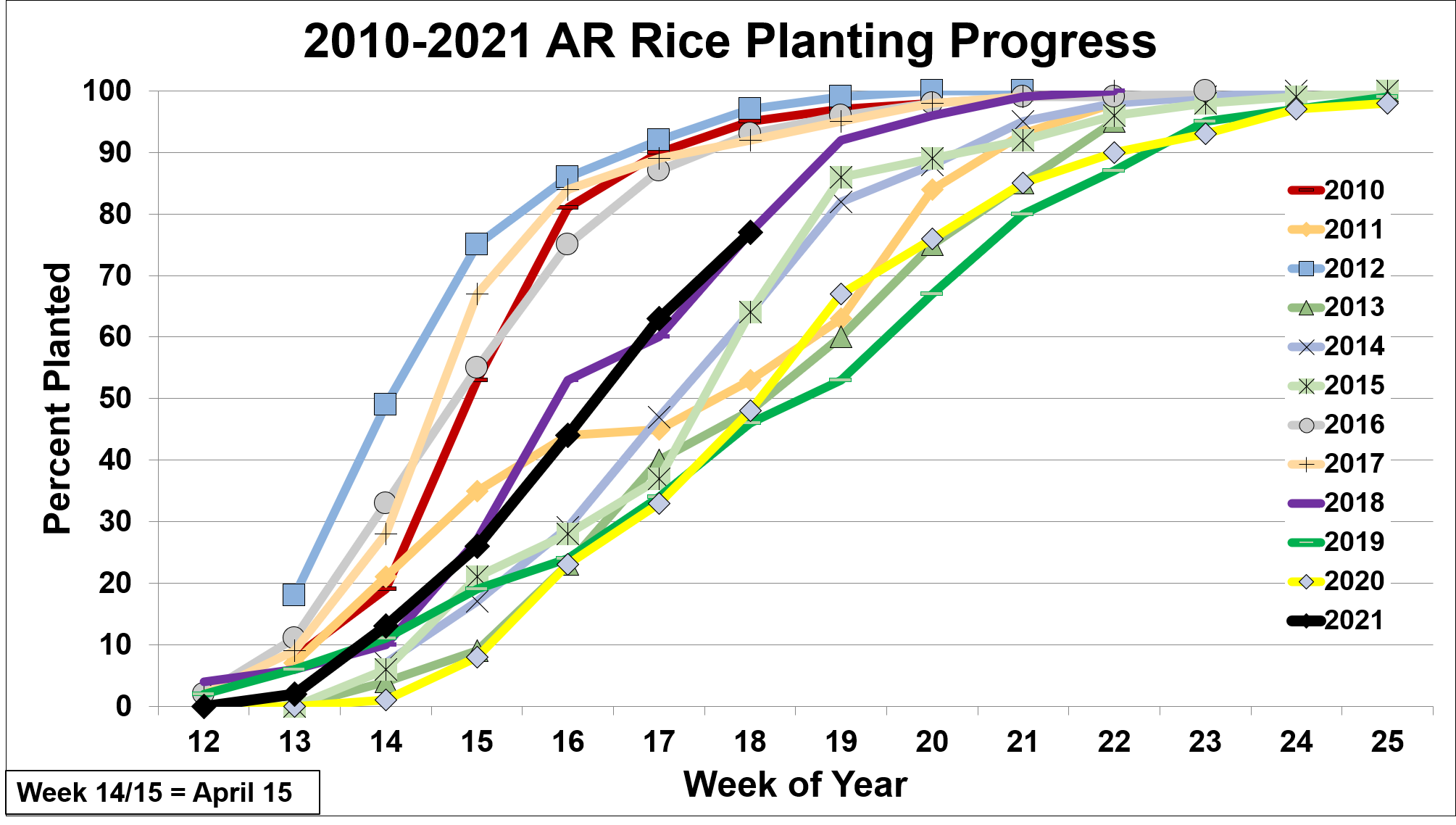 Fig. 2. NOAA 7-day precipitation forecast.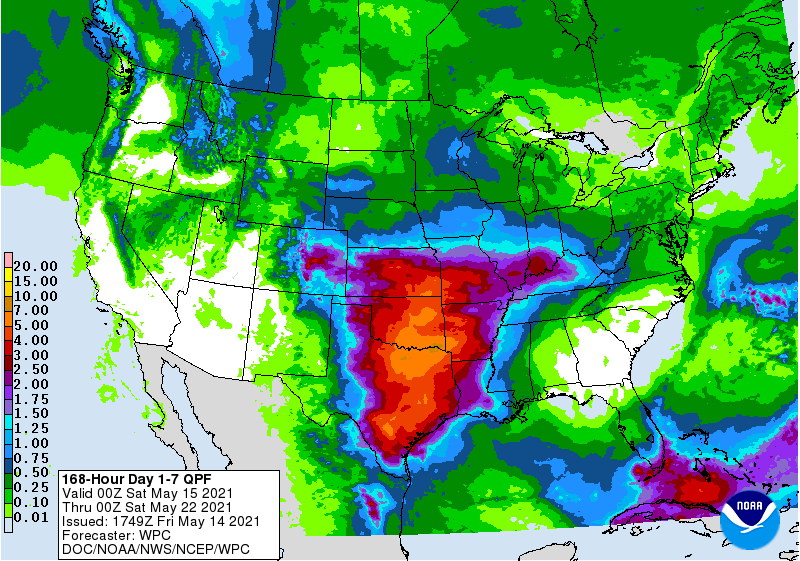 Discussion of Starter N Fertilizers in Rice
Jarrod Hardke
We've been dealing with cool, wet conditions combined with herbicide injury and seedling disease issues, and this week we've added high winds causing rapid drying. Rice appearance is overall poor at this point, to say the least, particularly earlier planted fields. In these situations, it's not uncommon for ammonium sulfate (AMS) or diammonium phosphate (DAP) applications to be made as 'starter' applications to get the rice growing. Unfortunately, there is not much basis for these applications, and they carry significant costs.
Do not apply any starter fertilizer prior to the full 2-leaf stage. Rice is still mostly living off the seed until this time and won't be taking up much prior to this stage.
Do not expect a yield response from a starter application made at the 2-3 leaf stage. The seedling won't take enough up to significantly contribute to yield. The small root system will not take anything up efficiently.
On silt loam soils the growth response from starter fertilizers has been minimal. You are unlikely to get more than a 'green-up' from the application. It might make you feel better but will cost $25-30 out of your budget (that could be used on something like additional residual herbicides). There has been some documented yield response on silt loam soils, but it was at later growth stages (3-4 or 4-5 leaf) when we could potentially be pushing fields to flood anyway.
On clay soils you can expect a positive growth response from starter N fertilizers. A direct yield benefit can happen at times, and the time to flood can be reduced, possibly saving a herbicide application and allowing for earlier harvest.
Occasionally there may be times when it's advisable to apply a starter when the crop is not doing well. However, if conditions are cool and the rice is generally not growing, the N uptake and growth response will be further reduced. Most often, a flush and better growing conditions are what give us the best crop response, not the starter. We can all agree we don't need a flush right now, but more sunshine and warmer temperatures.
Don't use the sulfur (S) as justification for the starter application, most soils on which we grow rice contain plenty of S. Response from AMS is from the N, not the S. The only exception are fields with known S deficient areas (sandy fields or those with sand veins) which may need S early and blended with preflood N.
If you do apply starter N, do not count the N units toward your preflood N. Just act like they aren't there. The rice plant will only take up, at best, 5-10 units of N from a starter application but it can be all over the board. Use your normal preflood N rate.
Rice Market Update
Scott Stiles
In step with the other CBOT grains, rice futures turned sharply lower Thursday. News that barge traffic on the Mississippi river could be shut down for a while was largely to blame for the selloff. At one point Thursday July corn was limit down. Corn trade will certainly be most impacted by this event. While originally the Coast Guard did not say when the river would reopen, as of Friday morning it had already reopened for barge traffic.
Thursday's pullback relieved the technically overbought condition in September rice futures. The market's push to new highs last week saw the Relative Strength Index (RSI) reach 80.65. For the time being, trading is finding support on the 20-day moving average at $13.685 (red line in chart below). Grain trade is higher Friday morning with corn, soybeans, and wheat all up double digits. Rice futures are up 1 to 3 cents.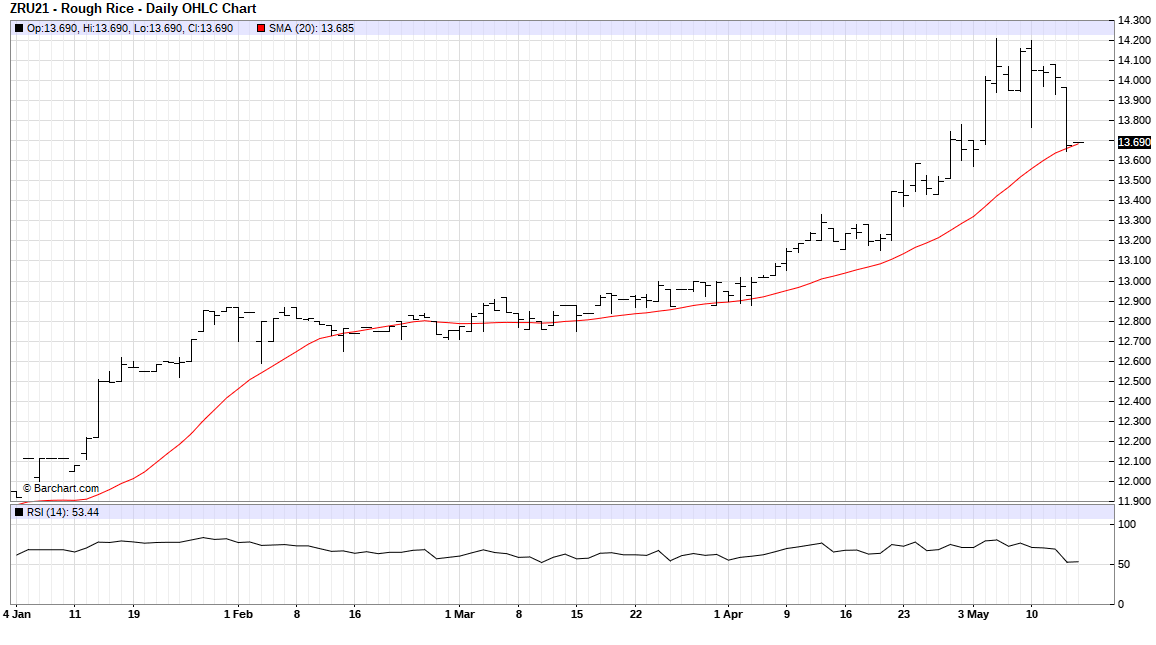 At face value, the May WASDE (supply/demand) was neutral for old crop rice and somewhat bearish for new crop. The only adjustment to the old crop balance sheet was in the price outlook. The 20/21 season average price was increased 10 cents per cwt. to $12.60 ($5.67/bu.). This in turn would reduce the projected PLC payment for the 2020 crop by 4 cents to 63 cents per bushel (see bottom of table below).
The initial run of the 21/22 new crop balance sheet could be viewed as slightly more bearish. Record imports of 31 mln. cwt. were projected. However, long-grain production is expected to be down 18.6 mln. cwt. based on the 11% reduction in acres from the March Prospective Plantings survey. It will be interesting to see the NASS June 30 Acreage report.
On lower production and higher prices one generally expects lower usage. Compared to the 2020, USDA projected new crop exports to be down 2 mln. cwt. to 61 million—lowest since 1996. Exports from Thailand, Paraguay, Burma, Cambodia, and Pakistan were all forecast to be higher in the 21/22 marketing year.
Domestic usage is also expected to be down 2 mln. cwt. from last year to 121 million. This would be the second highest domestic usage total historically. Ending stocks are projected to increase 1.3 million to 32.1 million—very similar to 2018. Despite higher ending stocks, average farm prices are expected to remain supported by historically strong grain prices overall. The projected 21/22 long-grain average farm price is expected to be $12.80/cwt. –up 20 cents/cwt. from 20/21.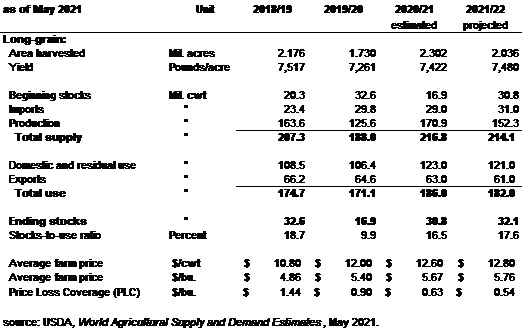 Row Crops Radio Podcasts
Check out these podcast episodes by following the link or by listening to them on Arkansas Row Crops Radio wherever you listen to podcasts.
Weeds AR Wild, Ep. 11: Residual Herbicide Activation (5-12-21) (starts at 6:12 mark)
DD50 Rice Management Program is Live
The DD50 Rice Management Program is live and ready for fields to be enrolled for the 2021 season. All log-in and producer information has been retained from the 2020 season, so if you used the program last year you can log in just as you did last year. Log in and enroll fields here: https://dd50.uada.edu.
Use the Arkansas Rice Advisor Internet App!
The Arkansas Rice Advisor site https://riceadvisor.uada.edu functions like an app on your mobile device. There you can readily access the DD50 program, rice seeding rate calculator, drill calibration, fertilizer and N rate calculators, publications, and more.
Additional Information
Arkansas Rice Updates are published periodically to provide timely information and recommendations for rice production in Arkansas. If you would like to be added to this email list, please send your request to rice@uada.edu.
This information will also be posted to the Arkansas Row Crops blog (http://www.arkansas-crops.com/) where additional information from Extension specialists can be found.
More information on rice production, including access to all publications and reports, can be found at http://www.uaex.uada.edu/rice.
Acknowledgements
We sincerely appreciate the support for this publication provided by the rice farmers of Arkansas and administered by the Arkansas Rice Research and Promotion Board.
The authors greatly appreciate the feedback and contributions of all growers, county agents, consultants, and rice industry stakeholders.