Arkansas Rice Update 4-29-22

Arkansas Rice Update 2022-06
April 29, 2022
Jarrod Hardke, Scott Stiles, and Tommy Butts
"I been wastin' my time, don't need no more rain, I been gone for so long, I think the devil lost my name."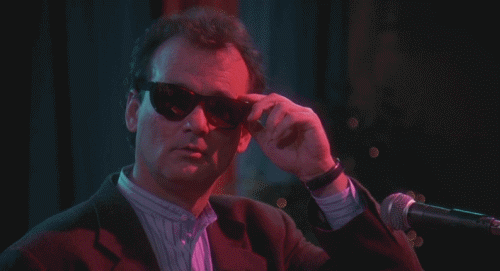 It's Happening!
Jarrod Hardke
Weather finally turned in our favor starting mid-week and planting progress actually occurred statewide for the first time all year. While it's only a few days, some were able to make huge leaps in planted acreage in that time. Most will continue to press their luck on Saturday and hope scattered rains miss them to allow for additional planting on Sunday.
That's the first good news to report in a while. Then more rain chances are forecast for the majority of next week, and that's more bad news. Another lost week of planting spells bad things for total rice acres in the state. The game is far from over, and the price situation will encourage continued acres, but only time will tell how this plays out.
Rice that has already emerged isn't always looking that great right now. Several straight years of cool, wet springs are making this the norm. The upside of current and upcoming weather is warmer temperatures that will hopefully help straighten up the early rice.
With everyone trying to get something planted this week, plenty for the first time, it's a wild guess as to just how much overall progress is being made. As of 4/25 we were 14% planted, and even if we jump to 30% planted we'll still be behind 2019 and 2020. Anything less than 33% on Monday's report and we'll still be on the slowest pace since 1993 (15%).
New on Arkansas Row Crops Radio this week:
Rice & Advice Series, S2 Ep 2: Importance of Nitrogen Source Selection for Rice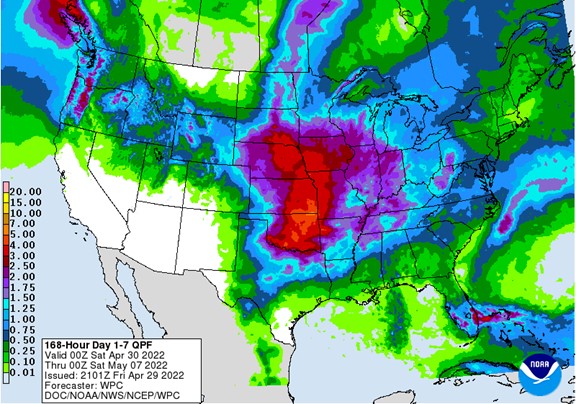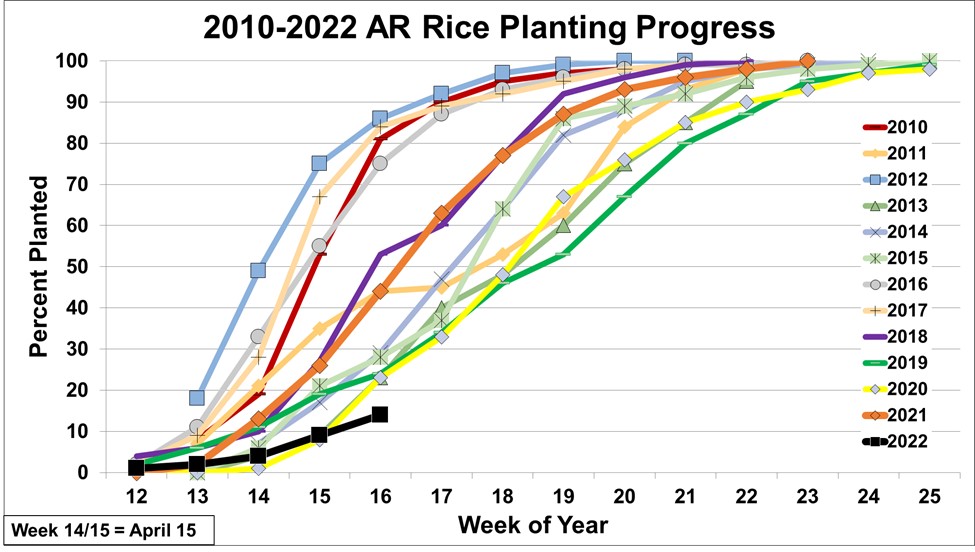 What's in a Rice Name?
Jarrod Hardke
There definitely seems to be some confusion over naming conventions right now and what is what when it comes to rice. Let's do a quick review to be sure we all know what we're working with this season and prevent any headaches.
Conventional varieties – Diamond, Jewel, Titan, Jupiter, Lynx, DG263L
These varieties have NO herbicide tolerance traits. The public varieties have seeding rates recommended in the range of 70-90 lb/acre. DG263L is different and can be planted at these rates but may be seeded at 45-60 lb/acre.
Clearfield varieties – CLL15, CLL16, CLL17, CLM04, CL111, CL151, CL153, CL163.
The older varieties are more well-known (CL111, CL151, CL153, CL163) where CL stands for Clearfield and then the number of the release. The newer varieties (CLL15, CLL16, CLL17, CLM04) have CL for Clearfield to start, then an L or M to designate Long-Grain or Medium-Grain, then the release number. These varieties have seeding rates recommended in the range of 70-90 lb/acre.
Provisia varieties – PVL02, PVL03
Provisia has a PV to start then an L for Long-Grain, then the release number. Tolerant only to Provisia herbicide. Also note there no medium-grain cultivars tolerant to Provisia at this time. These varieties have seeding rates recommended in the range of 70-90 lb/acre.
Conventional hybrids – RT XP753, RT 7301, RT 7401, RT 7501
These hybrids have NO herbicide tolerance traits. These hybrids have seeding rates recommended in the range of 22-27 lb/acre.
FullPage hybrids – RT 7321 FP, RT 7521 FP, RT 7421 FP
These hybrids begin with a 7 to designate long-grain, the second number indicates maturity, the third number is herbicide tolerance (2=FullPage), and the fourth number is the release number. The FP at the end is added confirmation that they're FullPage. Tolerant only to Preface and PostScript herbicides. These hybrids have seeding rates recommended in the range of 22-27 lb/acre.
MaxAce varieties – RTv7231 MA
Similar to the previously mentioned RT naming convention, but notice the "v" in there to specify that it is a VARIETY, NOT a hybrid. The third number is herbicide tolerance (3=MaxAce), and the fourth number is the release number. The MA at the end is added confirmation that it's MaxAce. Tolerant only to Highcard herbicide. This variety has a recommended seeding rate of 45 lb/acre.
MaxAce hybrids – RT 7331 MA
Similar to the previously mentioned RT naming convention. This is a hybrid. The third number is a 3 meaning MaxAce, and MA at the end is added confirmation. Tolerant only to Highcard herbicide. This hybrid has a recommended seeding rate of 22-27 lb/acre.
Provisia and Max-Ace Rice and their Herbicides
Tommy Butts
With our rice planting still on-going, we wanted to remind everyone about the importance of following the herbicide label and rice seed agreements regarding Provisia and Max-Ace rice cultivars.
Both Provisia and Max-Ace are quizalofop-resistant cultivars, but they require a specific tradename herbicide to be applied legally and safely. In Provisia rice, Provisia herbicide is labeled for use. In Max-Ace rice, Highcard herbicide is labeled for use. They cannot be mixed and matched (i.e., Provisia herbicide CANNOT be sprayed on Max-Ace rice and Highcard CANNOT be sprayed on Provisia rice).
Outside of labeling laws, it is also important to abide by these rules due to rice sensitivity to the herbicide active ingredient quizalofop. Highcard herbicide has a safener to help safen Max-Ace rice (regardless of if it's the variety or hybrid) from injury, whereas Provisia herbicide contains no safener. Provisia sprayed on Max-Ace rice, especially in cool and wet conditions, can lead to substantial injury. This was recently observed in a field by Dr. Connor Webster, Rice Extension Weed Specialist at Louisiana State University, which you can see in his tweet below. For more details on this specific case, check out our Weeds AR Wild podcast episode this week in which Dr. Webster joined us to discuss this topic along with other rice weed control advice from Louisiana:
Weeds AR Wild Series, S2 Ep 11: Rice Weed Control Advice from Louisiana
It is important to note this distinction as we have been told there is a potential shortage of Highcard herbicide for 2022 (as is the case with many herbicides this year). If you are or were planning on planting Max-Ace rice, make sure you also have access to or have in-hand the Highcard herbicide that goes with it. Otherwise, you will be unable to take advantage of the technology. For those planting Provisia rice, there is no reported shortage of Provisia herbicide, so you should be in the clear.
For both systems, it is recommended to apply the quizalofop (Provisia or Highcard) herbicide at 15 fl oz/acre sequentially. The first application should occur at roughly 2-3 leaf rice with the second application occurring at 5-6 leaf rice (preflood). If broadleaf or sedge herbicides are also required, it is recommended to mix those herbicides with the Provisia/Highcard in the first application. More information on herbicide mixtures and antagonism with Provisia/Highcard herbicides was also discussed in the previously mentioned podcast with Dr. Connor Webster, so make sure to check it out! Finally, as a reminder, a strong, overlapping residual herbicide program is also still key for successful, long-term weed management and delaying the evolution of herbicide resistance.
As always, if you have any questions, please don't hesitate to get ahold of us, and good luck out there!
Rice Market Update
Scott Stiles
Rice futures put in another good week with new highs in the September contract. Trading Thursday touched $17.29 with a close at $17.24. This is the highest trading for the September contract since 2011. New crop bids at east Arkansas mills on Thursday were $7.62 to $7.67/bu. for fall delivery. Bids for first quarter 2023 delivery were $7.76/bu.
CBOT September Rice Futures, 15-Year Monthly Continuation.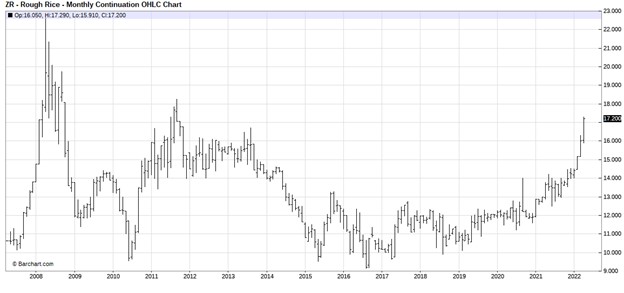 The rice market is largely focused on Midsouth weather and what it could mean for 2022 production. There's also some spillover support from the major grains and soybeans. The war in Ukraine continues to generate uncertainty, particularly for corn and wheat. The slow start to planting in the Cornbelt has also kept markets nervous. Brazil has had its driest April in 17 years.
Recall in USDA's March planting intentions, Arkansas was expected to plant 1.19 million acres of rice in 2022—down 2 percent from last year. Mississippi and Missouri rice acreage was projected to be down 5 percent. Given the historically slow planting pace in the Midsouth, the rice market senses the possibility of a further reduction in acres. As the calendar flips to May, the potential to shift acres to $15 soybeans increases.
As odd as it may sound, this could be a year to stick with your original plans. The current supply-chain challenges are reason enough. If you have all your seed, fertilizer, and chemicals for the growing season, that alone is priceless. Significantly altering your planting intentions could create a new set of challenges in securing inputs. In addition, the current price strength and the market outlook for rice is encouraging. If rice planting extends into late May, look for the September contract to retest the 2011 highs near $18.25. For Arkansas, the crop insurance final planting date for rice is May 25th. Prevented planting will no doubt be a consideration in a year with historically high insurance guarantees. Unfortunately, there appears to be little chance for field work next week.
In this week's USDA Crop Progress report, 26 percent of intended U.S. rice acreage was planted as of April 24th. This lags the 45 percent planted last year and the 5-year average of 47 percent. Note the planting progress for the Midsouth states compared to the 5-year average. This year is the slowest start for Arkansas since 1993. Based on historical averages, Arkansas, Mississippi, and Missouri would normally be 50 percent (or more) planted by May 1.
Table 1. U.S. Rice Planting Progress, 2022.
State

April 24, 2022

Last Week

Last Year

5-Yr Avg.

Percent Planted

AR

14

9

41

48

CA

-

-

10

4

LA

80

73

79

85

MS

25

11

45

41

MO

1

1

41

38

TX

77

73

84

77

United States

26

22

45

47
Source: USDA-NASS.
Fertilizer Prices
This was a volatile week for New Orleans urea prices with barges trading in a $100/ton range. Barges traded down to $620/ton early in the week before recovering to $720/ton Thursday. Wet weather and lower corn acreage estimates have provided a softer tone to the urea market for most of April. The late week recovery in urea came from a 1.5-million-ton tender from India. The recent weakness we've seen in retail urea prices may be coming to an end. Expect firmer prices to start the new month.
DD50 Rice Management Program is Live
The DD50 Rice Management Program is live and ready for fields to be enrolled for the 2022 season. All log-in and producer information has been retained from the 2021 season, so if you used the program last year you can log in just as you did last year. Log in and enroll fields here: https://dd50.uada.edu.
Use the Arkansas Rice Advisor Internet App!
The Arkansas Rice Advisor site https://riceadvisor.uada.edu functions like an app on your mobile device. There you can readily access the DD50 program, rice seeding rate calculator, drill calibration, fertilizer and N rate calculators, publications, and more.
Additional Information
Arkansas Rice Updates are published periodically to provide timely information and recommendations for rice production in Arkansas. If you would like to be added to this email list, please send your request to rice@uada.edu.
This information will also be posted to the Arkansas Row Crops blog (http://www.arkansas-crops.com/) where additional information from Extension specialists can be found.
More information on rice production, including access to all publications and reports, can be found at http://www.uaex.uada.edu/rice.
Acknowledgements
We sincerely appreciate the support for this publication provided by the rice farmers of Arkansas and administered by the Arkansas Rice Research and Promotion Board.
The authors greatly appreciate the feedback and contributions of all growers, county agents, consultants, and rice industry stakeholders.
| Specialist | Area | Phone Number | Email |
| --- | --- | --- | --- |
| Jarrod Hardke | Rice Extension Agronomist | 501-772-1714 | |
| Tom Barber | Extension Weed Scientist | 501-944-0549 | |
| Nick Bateman | Extension Entomologist | 870-456-8486 | |
| Tommy Butts | Extension Weed Scientist | 501-804-7314 | |
| Ralph Mazzanti | Rice Verification Coordinator | 870-659-5507 | |
| Trent Roberts | Extension Soil Fertility | 479-935-6546 | |
| Scott Stiles | Extension Economist | 870-219-8608 | |
| Yeshi Wamishe | Extension Rice Pathologist | 870-659-6864 | |